Led by the life insurance and pension segment the Malaysian insurance industry will reach $26.7 billion in 2026.
According to GlobalData, the insurance industry of the Southeast Asian country will grow at a compound annual growth rate (CAGR) of 8.4%, from $17.6 billion in 2021. It grew by 7.6% in 2021 after declining by 2.8% in 2020 due to the COVID-19 pandemic-induced economic slowdown.
The life insurance and pension segment accounted for 75.8% of written premiums in 2021, and it is expected to grow at a CAGR of 9.5% during 2021-2026.
General insurance accounted for the remaining 24.2% share of insurance premiums in 2021. The segment is expected to grow at a CAGR of 4.8% over 2021-26, driven by an increase in vehicle sales and expansion of construction activities in the country.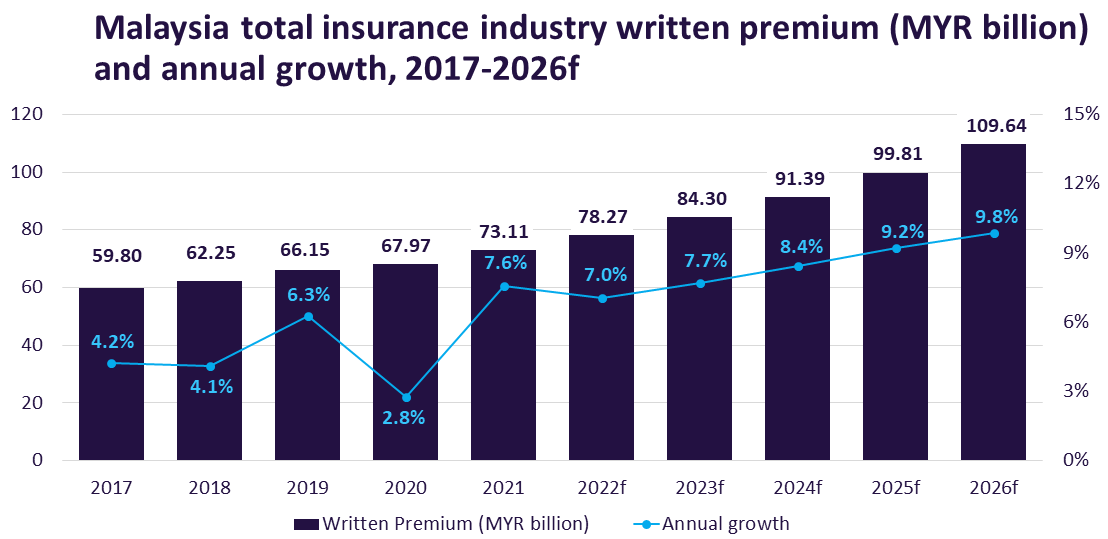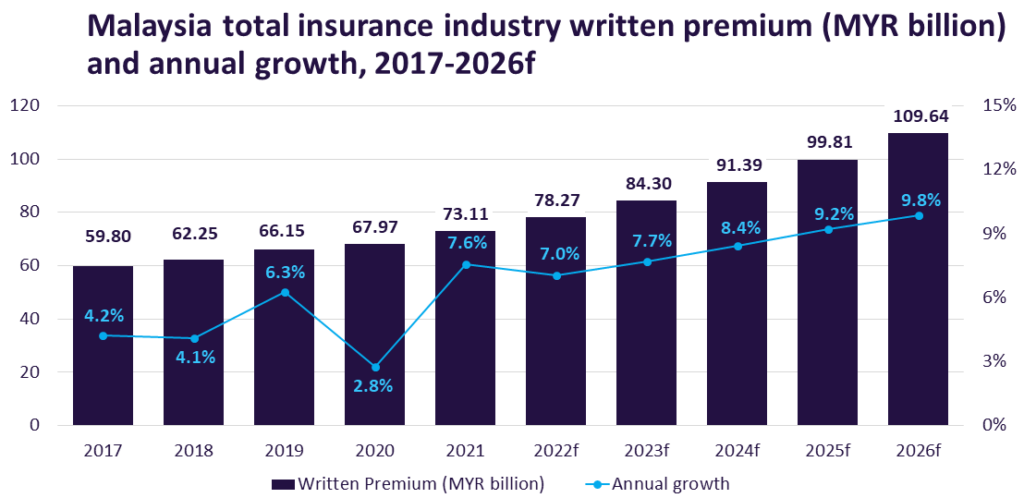 The life insurance segment in Malaysia is dominated by endowment and unit-linked products, driven by better returns on these products as compared to bank deposits.
To build on the popularity of these products and increase sales, many insurers offer attractive add-ons which include guaranteed annual cash payments, higher returns on maturity as well as a higher sum assured in case of accidental death.
Increasing demand for life insurance products backed by growth in investment-linked policies and the inclusion of the lower income segment of the population in PT insurance policies will drive the growth of Malaysia's insurance industry over the next five years.
Some of the life insurance products include the Perlindungan Tenang Voucher (PTV) Programme, launched in the country.
The program is aimed at enhancing social protection for the lower-income group, especially youth and young families, and the lower 40% income group of households, called B40 group.
Perlindungan Tenan (PT) products are offered through licensed insurers and takaful operators. They offer basic insurance or takaful protection against death, fire, or other unfortunate events.
According to the Malaysia's Household Income & Basic Amenities Survey conducted by the Department of Statistics, the B40 group comprised 2.91 million households, as of July 2023.