US bank M&A deals hit another monthly low in 2023 with only four deals announced in May, according to S&P Global.
In the year through May 31, there were 32 US bank M&A deals announced — fewer than half of the 66 deals announced over the same period in 2022.
Aggregate disclosed deal value fell to $580.2 million from $2.99 billion in the year-ago period, according to S&P Global Market Intelligence data.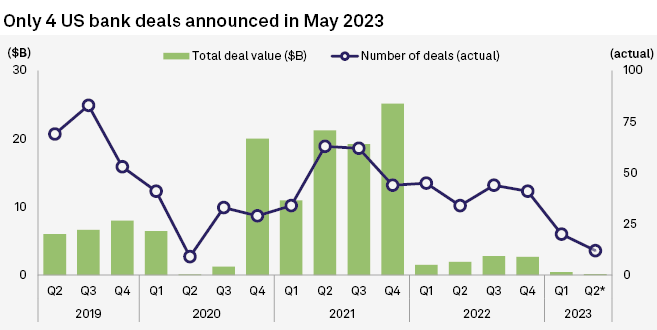 On May 18, Lebanon, Ohio-based LCNB Corp. announced it would acquire Cincinnati Bancorp, Inc. for $44.7 million at a deal value-to-tangible common equity ratio of 117.0%. The transaction marks the seventh acquisition for LCNB since 2011.
The deal is expected to close in the fourth quarter, pushing LCNB to an estimated $2.23 billion in assets upon completion and giving the bank a larger footprint in the Cincinnati area where it already has an established customer base.
It will also give the bank its first branch outside Ohio as it picks up Cincinnati Bancorp's branch in Florence, Ky.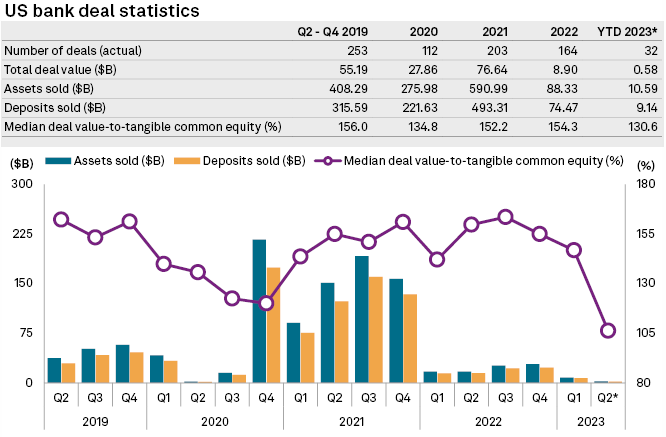 Three of the banks targeted in May were headquartered in the Midwest, pushing the region's total number of targets this year to 19.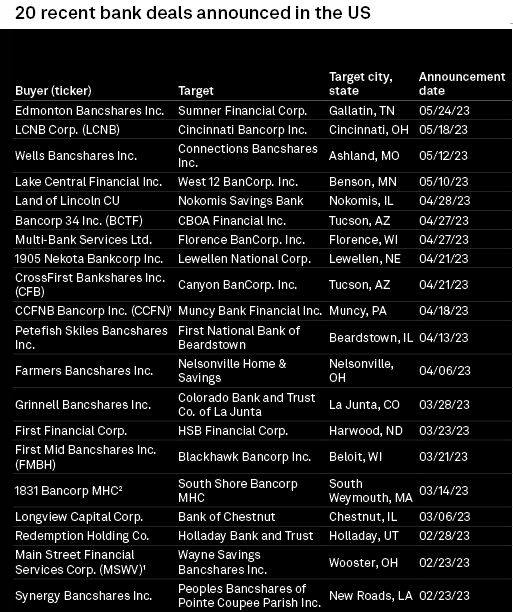 LCNB's announcement also marked the fourth time an Ohio bank has been targeted this year, making it the second-most popular target after Illinois at five.
Authors: Gaby Villaluz, Zuhaib Gull – S&P Global analytics