The Reinsurance Association of America presents Reinsurance Underwriting Report with cumulative quarterly underwriting and operating results of 17 major U.S. property casualty reinsurers and includes premiums, losses, underwriting and expense ratios, and other Q1 2023 financial results. The report is prepared on a statutory basis of accounting.
RAA Statutory Reinsurance Underwriting Report
U.S. P&C reinsurers wrote $32.4 bn of Gross Premiums Written during Q1 of 2023, up from $27 bn, $1.67 bn of Direct Premiums Written, and $27.3 bn of net premiums, up from $24.6 bn for the same period last year.
TOP 17 U.S. P&C Reinsurers by premiums Q1 2023, thousands $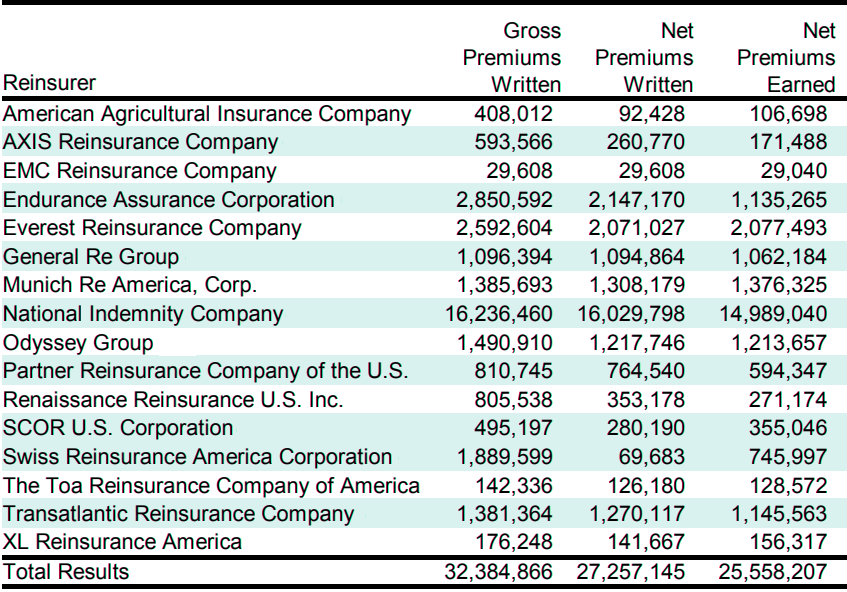 Losses & Loss Adj. Expenses grows to 19.9 bn. The combined ratio for the group was 95.3%, only a minor increase compared to 95.1% for the same period in 2022.
The combined ratio is attributable to a 78% loss ratio versus 73.3% for the same period in 2022, and a 17.3% expense ratio versus 21.8% for the same period in 2022.
17 U.S. P&C Reinsurers by losses Q1 2023, thousands $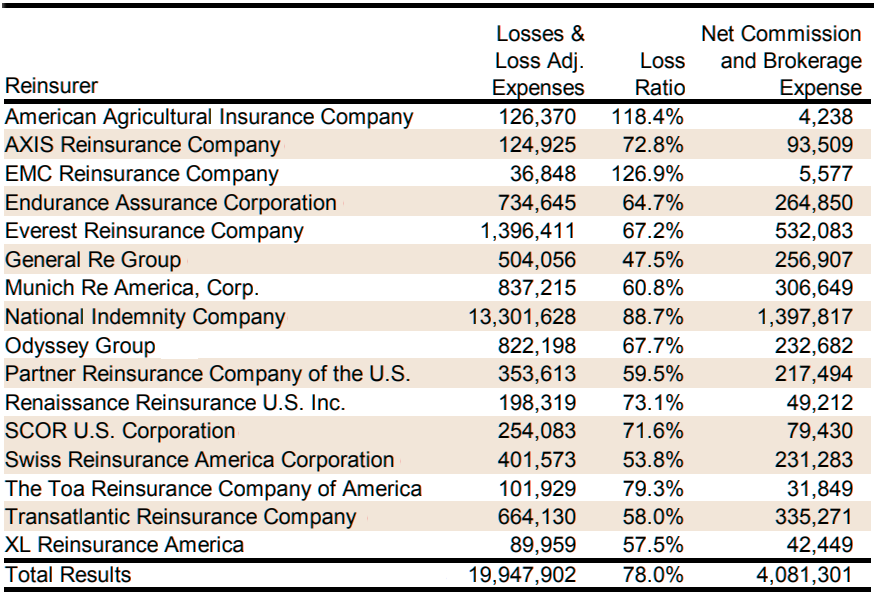 Policyholders' surplus was $286.3 bn, compared to $254.4 bn in the prior quarter. General Re Group achieved the lowest combined ratio at 78.7%, while Swiss Re recorded the highest at 387.7%. Only 5 of the 17 reinsurers recorded combined ratios above 100%.
Combined net income for the group in Q1 of 2023 improved to $2.7 bn, up from $1.5 bn in 2022. This was largely driven by National Indemnity, which recorded a net income of $1.6 bn. Net investment income was down from $2.3 bn in 2022 to $2 bn.
The reinsurers involved in the survey were American Agricultural Insurance, Axis, EMC, Endurance Assurance, Everest, General Re, Munich Re America, National Indemnity, Odyssey Group, Partner, Renaissance, SCOR US, SiriusPoint American, Swiss Re, Toa, Transatlantic, XL.