Karen Clark & Company estimates that the insured loss from this Severe Convective Storm (SCS) outbreak will be close to $5.5 billion.
The KCC loss estimate includesthe privately insured damage to residential, commercial, and industrial properties and automobiles.
A prolonged severe weather system that began on June 10th and persisted until June 19th resulted in over one thousand reports of hail and damaging wind gusts throughout the Central and Southern US.
Dozens of instances of softball-sized hail were reported across Texas, Arkansas, Mississippi, and Georgia and extreme wind gusts exceeding hurricane-force were measured throughout the South.
While hail and winds were the dominant features of this event, several damaging tornadoes also formed.
There have been 1,557 reports of hail, 93 reports of tornadoes, and 2,719 reports of damaging wind gusts from this event.
In all, 25 states were impacted.

On June 10th the upper-level jet stream split into a northern branch and a southern branch, which promoted the formation of upper-level troughs over both the western and eastern US and a stationary front that extended from the Rockies to the Atlantic Ocean.
This persistent pattern remained in place through June 19th and ultimately led to near-daily rounds of storms forming across the Central and Southern US–from Colorado to Georgia.
Normally, in June, the predominant air mass across the South has high heat and moisture content which supports the northern migration of the subtropical jet to the Central and Northern Plains. The stationary front inhibited this northward migration of the jet, so it remained in place across the South.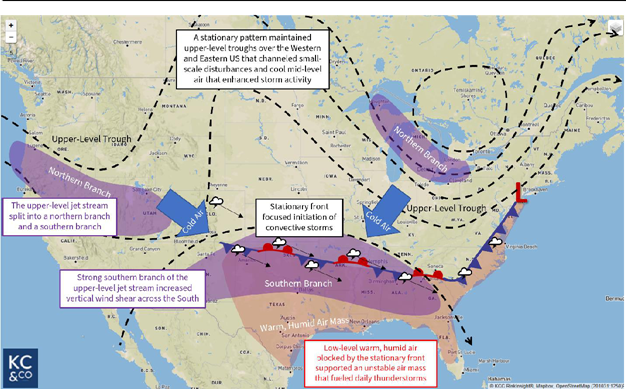 The stationary front that extended across the South acted like a barrier and prevented the warm, humid air mass emanating from the Gulf of Mexico from moving northward and diffusing. The steady onshore winds repeatedly replenished the heat and moisture that had been utilized each day by convective storms. Surface observing stations across Texas broke record high dew point temperature measurements from the intense heat and moisture within the air mass.
Scattered convective cells and discrete supercells formed along low-level convergent winds near the stationary front and then tracked eastward.
Storms "trained" nearly every day throughout this event, meaning that they formed along the east-west-oriented frontal boundary and tracked eastward along it, steered by the eastward-flowing upper-level jet stream overhead.
A few small-scale upper-level waves tracked across the frontal boundary, which initiated strong supercell convection in Colorado, Texas, and Oklahoma. This convection subsequently tracked eastward downwind and occasionally organized into a convective line near the Gulf Coast.
In addition to the air mass across Texas and the Southeast being warmer and more humid than average for early June, the presence of the southern branch of the upper-level jet stream overhead provided vertical wind shear which acted to intensify updraft intensity and longevity.
These intense, long-lived updrafts allowed hailstones to remain suspended for a long period of time within a very moist storm environment, which enabled the stones to grow to very large sizes.
Because it is still late spring, sub-freezing mid-level air was in place and maintained by an upper-level low spinning over the Great Lakes.
This cold air promoted the formation of ice and hail within thunderstorms. Historically, the US has had an average of one severe convective storm outbreak per year with this level of damage.