Aviation insurance refers to indemnification of a client against losses arising from the result of damages, maintenance, or use of aircraft, and hangars at the airport. In addition, it provides coverages for damage to aircraft, property damage, and personal injury.
Aviation insurance is also known as aircraft insurance. This insurance typically covers repair or replacement of damaged parts of accidental aircraft.
Generally, the end users of aircraft insurance include airlines, airports, aircraft product manufacturers, leasing companies, air taxi operators, and corporate aircraft operators. Furthermore, surge in adoption of aircraft insurance due to increased global trade and numerous benefits provided in aircraft insurance coverage are the major factors boosting the aviation insurance market growth.
Key takeaways
Despite the challenges of the war in Ukraine and the pandemic, we see a promising outlook for aviation insurance. We estimate premium growth of 4-5% per year to 2030.
Both air cargo and air passenger traffic have robust long-term prospects. The commercial fleet is forecast to double in size between 2019 and 2040, to around 50 000 aircraft, creating strong growth in exposure to insurance.
The drive towards decarbonisation will create long-term opportunities for aviation insurers.
According to Swiss Re Institute Report "Aviation insurance: opportunities ahead from greener flying", times are challenging for aviation insurers as airlines grapple with the fallout from war in Ukraine, directly after the unprecedented shock of COVID-19.
However, air traffic is rebounding strongly, and passenger and cargo numbers are expected to grow over the long term. As airlines invest in greener and safer new aircraft, we see growing opportunities for aviation insurance.
The outlook for aviation insurance is promising. After the grounding of planes during COVID-19, passengers are returning to the skies: global passenger numbers are expected to recover to pre-pandemic levels by 2024.
Demand for air cargo is also expected to increase over the long run. Combining cargo and passenger traffic, the commercial aircraft fleet is forecast to rise from around 25.000 airplanes in 2019 to close to double that number in 2040.
That corresponds to a compound annual growth rate of around 3.1%. More airplanes flying means a larger premium opportunity for insurers. Based on our economic growth forecasts, and expected increases in air passenger traffic and aircraft fleet size, we estimate global nominal gross written premiums in aviation (and space) insurance could grow by 4% to 5% annually on average to 2030 in nominal terms (0.7%-1.7% in real terms).
Aviation insurance typically covers all risks related to aircraft loss or liability. War risk aviation cover is also typically purchased by airlines. Aviation also provides risk diversification opportunities for insurers.
Important drivers of premium volumes are air passenger and cargo traffic, aircraft fleet size and value, as well as trends in the frequency and severity of accidents and the impact of social inflation liability claims.
In relation to the conflict in Ukraine, some 500 aircraft currently in Russia are leased from international firms. The outcome of the evolving situation is uncertain and does not negate the tailwinds that will boost growth in aviation insurance over the longer-term. The pandemic inflicted an unprecedented shock on the aviation sector.
Rise in air passenger traffic and increase in government rules & regulations for passenger safety positively impacts the growth of the market. However, factors such as costly aviation insurance premium hampers and increase in frequency and cost of claims are limiting the growth of the market. On the contrary, rising expenditure on international airlines is expected to offer remunerative opportunities for the expansion of the market during the forecast period.
Forecast commercialaircraft fleet evolution in 000s aircraft, 2040
Numbers refer to changes versus the previous column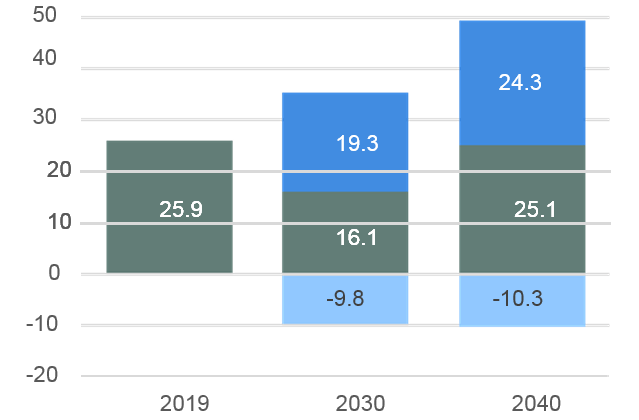 Moreover, companies majorly focus on creating novel opportunities for growth and revenue generation, thereby increasing the preference for AI and advance machine learning algorithms across industries.
The in-flight insurance segment is expected to witness growth at the highest rate during the forecast period, owing to increasing cases of airline accidents from various causes such as bird collision, bad weather, engine failure and other.
Global revenue passenger-kilometres (RPK) – a unit of measurement for air passenger traffic that takes distance into account – fell by 66% in 2020, interrupting a long-term (1990-2019) growth trend of around 5.5% per annum.
In 2022 passenger growth has accelerated as the pandemic recedes, with RPK up by 88.8% y-o-y in the first quarter. Over the longer term, growth in passenger numbers will be largely driven by the populous emerging markets, notably in Asia as the middle class expands and more individuals and businesses can afford air travel and access global goods markets. We expect this growth in passenger traffic to benefit aviation insurance exposure in the long term.
Recent global aviation losses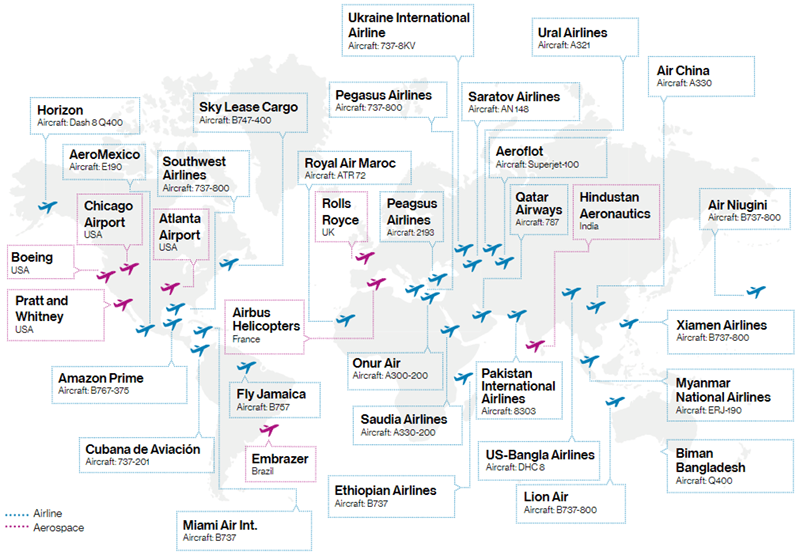 By insurance type, the passenger liability insurance segment is expected to garner a significant aviation insurance market size during the forecast period, owing to stringent government regulations; making it compulsory to avail passenger liability insurance to protect damages to the passengers.
Historical trends and outlook in the aviation insurance market. Arrow colour and direction indicate how the metric evolves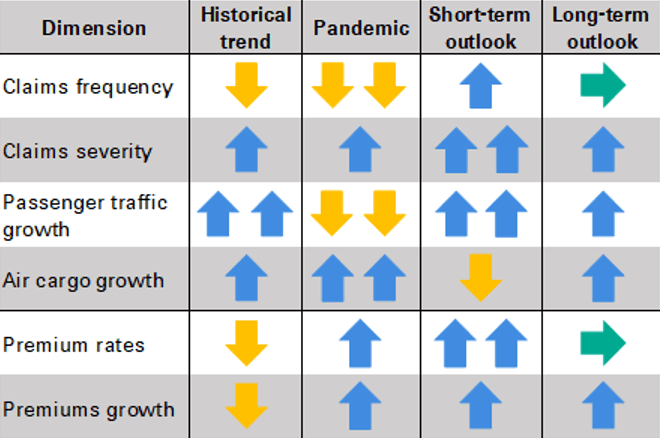 Air cargo performed better than passenger traffic during the pandemic. Volumes carried rose by 6.9% in 2021 versus 2019.
Cargo accounts for a smaller share of global aviation industry revenue than passenger traffic, and the volume increase during the pandemic did not offset the loss impact of the drop in passenger numbers.
Air cargo traffic has eased since the second half of 2021 as economic growth has slowed. That said, strong growth in e-commerce, in which air cargo plays a crucial role, is a favourable long-term development and will increase air cargo insurance exposure.
Airlines used the lull in traffic during the pandemic to renew their passenger aircraft fleets, leading to investments in greener and safer planes. This has created additional near-term opportunities for insurers. Aircraft are expensive and the associated value of sums insured are significant. Another long-term tailwind for insurers is the uninterrupted historical downward trend in air travel accidents, which is likely to continue and so reduce the frequency of claims.
However, claims severity has gone in the opposite direction, as aircraft become increasingly valuable due to growing complexity in their design and manufacturing process, and with social inflation.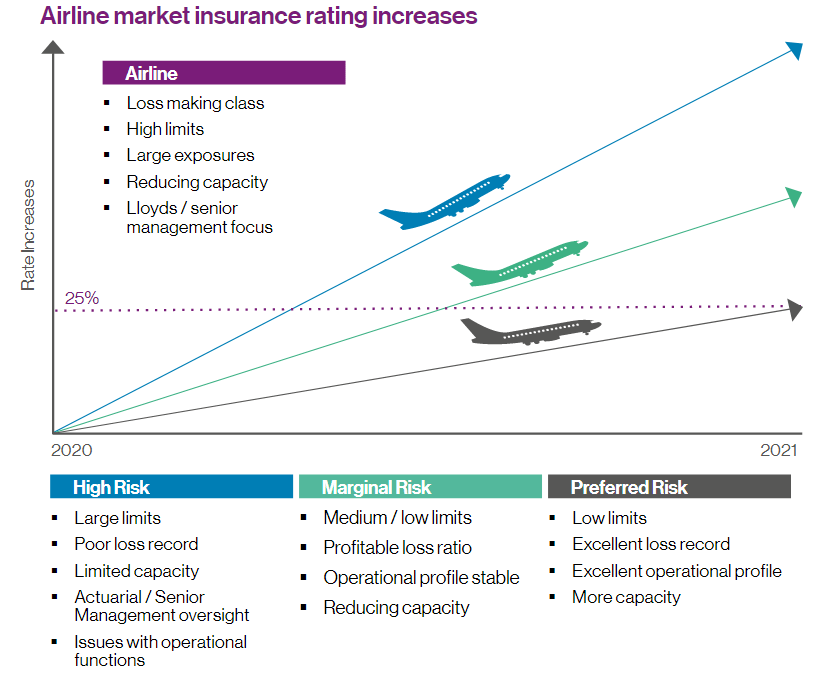 The global drive for decarbonisation, and related trend of travellers looking for alternatives to flying, are emerging challenges. We expect green taxes to increase and airlines to work to fly more sustainably.
This may raise air fares and so lower demand, but it may also make air travel more attractive to the environmentally conscious. We believe the aviation industry and its insurers can find optimal solutions and that despite the near-term uncertainty, there are significant opportunities, from e-commerce to greener flying, ahead.
Avia Insurance Segment Review
The global aviation insurance market revenue share is segmented on the basis of insurance type, application, and region. Based on insurance type, the market is divided into public liability insurance, passenger liability insurance, combined single limit (CSL), in-flight insurance, and others. In terms of application, the market is categorized into commercial aviation, general & business aviation and others.
Region wise, the market is analyzed across several regions such as North America, Europe, Asia-Pacific, and Latin America, Middle East & Africa (LAMEA).
Passenger Liability Insurance is segment is projected as one of the most lucrative segments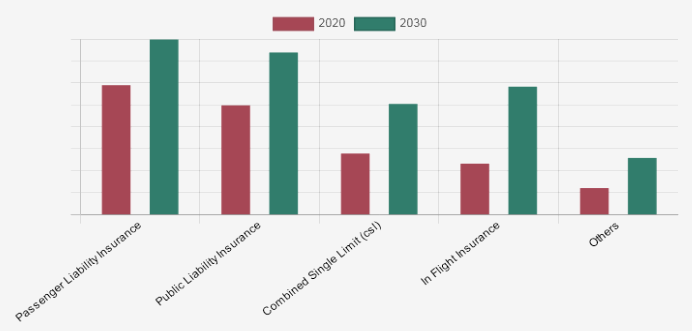 COVID-19 impact analysis
The COVID-19 outbreak has a significant impact on growth of the aviation insurance market size, mainly owing to large, well-documented claims from Original Equipment Manufacturers (OEMs) in the aerospace division. In addition, there has been a steady and significant rise in passenger traffic since the COVID-19 impact.
There has also been an increase in government rules & regulations for passenger safety. In addition, globalization has led to an increasing demand for airline services as emerging nations are aiming to expand their existing airport terminals.
Moreover, COVID-19 has exponentially hampered the travel industry. For instance, in 2020, the arrival of tourists in Spain dropped by 78% with approximately 19.2 million visitors. This creates a hindrance to the aviation insurance market growth. However, in such conditions, insurance companies can develop new tailor-made offers for consumers.
Furthermore, the reduced airline activity brought severe impact on aviation insurance as airline premiums are generally assessed according to hours flown, the global aviation premiums collected were down by an estimated 25% as compared to 2019 numbers.
In addition, claims continued to occur from weather and ground collision damage such as individual incidents of hail and wind damage to sitting aircraft.
For instance, in 2020, airports in five U.S. states suffered direct tornado hits, causing $125 million in insured damage.
Thus, number of such developments across the globe are anticipated to provide lucrative opportunities for the expansion of the aircraft insurance market.
Rise in air passenger traffic
Rise in number of passengers opting for air travel mode has increased tremendously in the market. In addition, with this growing demand for airline services, emerging nations are developing and expanding their existing airport terminals. Therefore, massive development of airports, which involves automated baggage handling & self-check-ins, further propels the market growth.
In addition, rapid increase in national and international travelling for business is accelerating the growth of the aviation insurance market revenue across the globe.
With rise in tourism, the incidence such as cancelled flights, accidents, natural calamities, and other such occurrences of uncertainties, has been increasing during travelling. This fosters the demand for aviation insurance, thereby contributing toward the growth of the global market.
Moreover, rapid digitalization in the corporate and tourism sectors and surge in penetration of Internet of Things (IoT) in various business have boosted international travelling, which notably contributed toward the growth of the aircraft insurance market.
A history of risk sharing
As the aviation industry began to grow more rapidly after the First World War, so too did demand for aviation insurance. Underwriting aviation risks was to prove particularly challenging during the first decades of the 20th century, while the increasing international reach of the industry necessitates new solutions today.
Aviation risk was generally considered too volatile for individual insurers, leading companies to join together in a bid to share the risks – a model that is still followed in the commercial aviation sector today. Key to the development of the aviation insurance market over the subsequent decades was the establishment of aviation pools.
Passenger Liability Regimes
An important driver for aviation insurance was the development of passenger liability regimes, at both a national and international level.
Significantly, the Convention for the Unification of Certain Rules Relating to International Carriage by Air (Warsaw Convention) was signed at Warsaw on 12 October 1929. The law has since been amended, and was replaced by the 1999 Montreal Convention. Today, airline passenger liability is governed by a combination of international and national law, which can make claims settlement complex.
………………………
AUTHOR: Jérôme Haegeli – Chief Economist Swiss Re Group, Arnaud Vanolli – Economist Swiss Re Group