Fitch Ratings expect significant improvements in reinsurers' financial performances due to higher prices in a hardening market, a strong rebound in economic activity and lower pandemic-related losses.
The positive factors should outweigh the negative effects of declining investment returns, increasing natural catastrophe claims due to climate change, and a temporary pick-up in inflation.
We expect to affirm most reinsurers' ratings in 2021 and into 2022, barring extreme natural catastrophes.
Increased risks from rising claims inflation
Increased risks from rising claims inflation, financial market volatility and weakening price momentum have seen Fitch Ratings revise its sector outlooks on global reinsurance and London market to neutral from improving.
Fitch Ratings has lowered its sector outlooks for the global reinsurance and London markets to "neutral" from "improving," citing increased risks from rising claims inflation, financial market volatility and weakening price momentum.
The Fitch Ratings said the Russia–Ukraine war has exacerbated some of the negative macroeconomic trends affecting both reinsurers and the London Insurance market.
Rising inflation has accelerated, and increased financial market volatility has led to higher regulatory capital requirements, the rating agency noted. In some cases, insurers have suffered investment losses due to wider credit spreads and lower equity valuations.
Short-tail insurance business affectes by higher claims inflation
Short-tail business lines are already being affected by higher claims inflation, with repair costs for buildings and vehicles soaring.
For the global reinsurance market and the London market, the war in Ukraine represents a midsized catastrophe event, Fitch said. It should mostly affect specialty lines such as aviation, marine, political risk, trade credit and cyber insurance. Fitch anticipates insurers and reinsurers to take hits to their quarterly earnings results but does not anticipate any material ratings impact.
Fitch Ratings' Global Reinsurance Forecast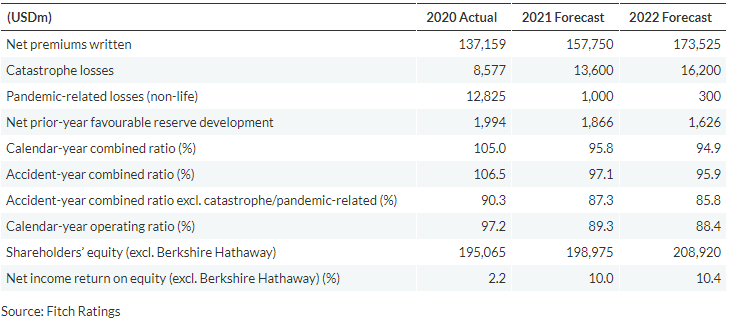 Fitch-rated reinsurers have generally been well-positioned to absorb pandemic-related losses so far, and uncertainty over the ultimate losses is diminishing for three main reasons:
Firstly, the progress on vaccination, particularly in Europe and North America, has reduced the risk of excess mortality claims in life reinsurance, despite the spread of the Delta variant.
Secondly, infectious disease exclusions in renewed contingency and business-interruption treaties have mostly eliminated the risk of new pandemic-related claims from these business lines.
Thirdly, the business-interruption losses reported so far in 2021 have been within expectations factored into incurred-but-not-reported claims reserves set aside in 2020.
Insurance sector's combined ratio normalises
Reflecting on the January 1 renewal period, analysts at Miller have noted that casualty business became relatively more attractive to reinsurers in the London Market, following another year of elevated losses in the property catastrophe space.
Fitch expects the insurance sector's combined ratio, normalised for large losses, to improve by 2pp–3pp in 2021 and another 1pp–2pp in 2022 as price increases gradually feed into underwriting margins.
Price rises are slowing due to strong capital supply and recovering profitability, and we expect risk-adjusted prices to remain largely unchanged in 2022.
In addition to the large loss events of the past year, climate change is seen as a potential factor in forward capital costs calculations for carriers as the escalating social inflation environment is for casualty.
For primary insurers, analysts reported that underwriting discipline is still apparent in terms of what is within appetite, with carriers only gradually beginning to broaden their scope away from tightly constrained parameters in their business plans.
………………………..

by Yana Keller