Karen Clark & Company, a catastrophe risk modeller, has estimated privately insured losses from Hurricane Idalia at close to $2.2 bn, the majority of which relates to wind and storm surge impacts in the U.S.
U.S. impacts from the hurricane spread across a wide area, with likely record-breaking storm surge and powerful winds causing damage in Florida, Georgia, and the Carolinas. Across Florida and Georgia, more than 450,000 customers were without power.
The close to $2.2 bn estimate does not include damage to boats, offshore properties, or National Flood Insurance Program (NFIP) losses.
Initial estimates for insurance industry losses from Hurricane Idalia, which made landfall in Florida as a major Category 3 storm, are lower than previously feared and point to insured losses of less than $10 bn.
So far, there's been a range of early estimates for insured losses from Hurricane Idalia, ranging from as low as $3 bn to around the $9 bn mark.
The Big Bend area of the Florida coast where Idalia made landfall is far less densely populated than the region devastated by Hurricane Ian last year. In contrast to Hurricane Idalia, there were approximately 1 million people within 30 miles of landfall for Ian, while there were about 38,000 people within that distance for Idalia, according to an AccurateWeather report.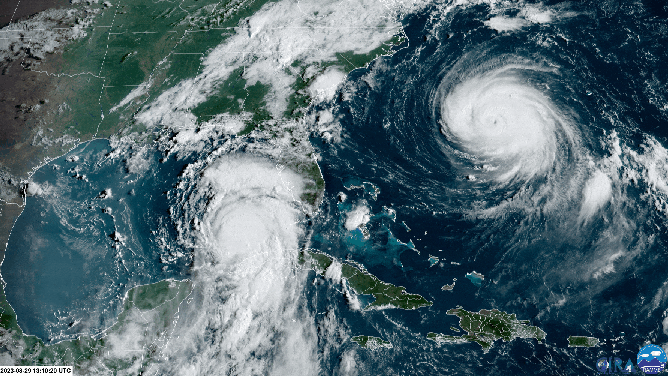 Although Hurricane Idalia weakened from a Cat 4 storm to a Cat 3 prior to landfall on Florida's big bend region, it was still the strongest hurricane to make landfall at this location since 1986.
KCC's estimate is low compared with other early insured loss estimates for Idalia, and includes privately insured damage to residential, commercial, and industrial properties, as well as automobiles.
The reason for the relatively low insured loss total in the U.S. is the fact Idalia made landfall along one of the least populated areas of the Florida coast. All in all, KCC estimates that insured wind losses from Idalia will be near $2 bn.
The cat risk modeller describes the storm surge impacts as likely record-breaking, with initial estimates showing surge heights of more than 9 feet in the Steinhatchee River, 8 feet in Cedar Key, and 4.5 feet in Tampa Bay, all of which would break previous records.
KCC estimates insured storm surge losses from Idalia of close to $210 mn.
Idalia's fierce winds, torrential rain, and the resulting storm surge battered Florida's Gulf Coast before continuing onto Georgia and South Carolina. This, analysts have stated, caused significant property damage that will result in sizeable losses for the insurance industry.

by Yana Keller