Growing demand for pet insurance market policies and rise in need for financial safety in case of surge in uncertainties boost the growth of the global pet insurance. In addition, surge in number of veterinary centers positively impacts the growth of the market. However, lack of awareness regarding pet insurance policy and high premium cost hampers the market growth.
On the contrary implementation of technologies in existing products and service lines, and government initiatives regarding pet insurance policies are expected to offer remunerative opportunities for expansion of the market during the forecast period.
Pet insurance is similar to health insurance for humans. It includes exclusions, various levels of coverage, deductibles, and payment limits.
Some carriers have different levels of coverage for the customer to choose from, while other carriers have one-size-fits all type plans. Most pet insurance companies exclude pre-existing conditions and hereditary or congenital conditions. Some insurance companies will not accept pets after a certain age and many companies have waiting periods before benefits begin.
Pet insurance helps to pay for veterinary treatment for your pet so you can concentrate on getting them on the road to recovery. Veterinary care can be eye-wateringly expensive but most cats and dogs will need treatment for an illness or injury at some point in their life. Horses might need to have a vet called out to them, which will increase costs, and even smaller animals like rabbits can be surprisingly costly to treat.
Pet insurance policies are noted to be paid in part or entirely for the treatment cost of insured pet, including veterinary treatment, injuries, illness, accidents, and various veterinary surgical procedures, among others.
According to NAIC, insurance policies are usually broken down by the type of pet being insured and some companies allow the owner to choose their veterinarian. The actual monthly cost of the policy will depend on many variables, including the species of animal, breed, gender, age, location, and the coverages and deductible chosen. Most policies pay on a reimbursement basis and are not transferable to other pets, but with written approval and consent, some policies can be transferred to new owners.
Pet insurance companies typically divide their products into 3 main categories: accident-only, accident and illness, and wellness coverages. Each level offers specific services that are covered and excluded and will vary by price.
Pet insurance is an insurance policy bought by the pet owner to pay partly or in total for the veterinary treatment of the insured pet's illness or injury. Some policy also covers the pet death, or in case the lost or stolen. Moreover, the growing medical expenses in veterinary medicine and employing of expensive medical techniques and drugs is boosting the demand of pet insurance market.
Pet Insurance Market size
According to American Pet Products Association's (APPA) National Pet Owners Survey, 151.1 million, or 70% of, households in the U.S. reported owning a pet, and will spend an estimated $32.3 billion on vet care and products (pharmaceuticals and items purchased through veterinary clinics, excluding food and treats) in 2023, up from $31.4 billion in actual costs in 2020.
This is not a new trend; consumer spending on pet medical care has been consistently rising every year since 2001, the year APPA officially started collecting data. The rise in veterinary care spending comes at a time when sales of pet insurance policies are rising, as well. Highlights from the North American Pet Health Insurance Association (NAPHIA) State of the Industry Report show the total number of pets insured in 2022 reached 3.1 million, up from 2.5 million.
The Global Pet Insurance Market size values at $7.5 bn in 2022, and is projected to reach $18 bn by 2030, growing at a CAGR of 14% from 2022 to 2030
Dogs continue to make up the majority of insured pets (82.9% vs 17.1% for cats). As lifespans of companion animals increase, costs of veterinary care are likely to increase for the consumer. This could be beneficial for the pet insurance industry in the future as more consumers turn to pet insurance to help manage preventive care, acute and chronic illness, and emergency medical care costs for their animals.
Pet insurance has surged in both revenue and investment in the last few years. Yet, analysts are predicting the pet insurance market will continue to grow at pace.
By 2030, different market research companies are estimating the pet insurance space could be worth:
$14.9 billion – by Global Market Insights
$16.8 billion – by Allied Market Research
$32.7 billion – by ResearchAndMarkets
While the valuations may differ, analysts agree the market is a great opportunity for insurers. This is particularly the case for those offering insurtech solutions in the pet insurance market.
Moreover, the data from NAPHIA shows consumers prefer these types of "comprehensive" insurance plans for their pets: In the U.S., 98% were covered by Accident & Illness plans or Embedded Wellness plans while the remaining 2% were Accident Only plans.
The combination of a growing pet population and consumers willing to invest more in the health of their pet could create opportunities for insurtechs to enter this expanding market. Insurtech company Lemonade announced their intention to add pet insurance to their existing product lines and as of 2022, the product is available on their website for purchase.
Moreover, the policy covers blood tests, urinalysis, x-rays, MRIs, labwork, CT scans and ultrasounds, as well as outpatient, specialty and emergency care procedures, along with hospitalization and surgery.
In addition, with the rise in medical costs, pet owners can also get an extended accident and illness package that goes beyond the initial coverage of accidental road accidents and poisonings, and a variety illness. Furthermore, majority of the pets are becoming a family for the pet owners which is making them spend increasing amount on their yearly checkup due to growing problems arising from cross breed pets.
Thus, majority of pet Insurance market comes with an optional wellness package, as well, which provides savings for routine stuff like an annual physical checkup, heartworm tests, fecal tests, annual parasite evaluation tests, blood work and vaccines. Therefore, pet insurance market saves the pet's parents from growing number of medical complication of pets.
Pet health insurance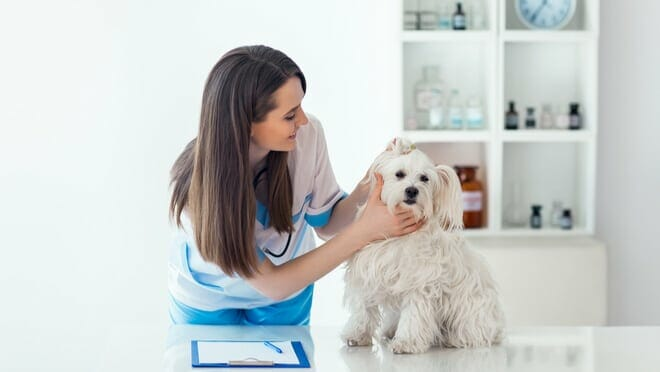 If you have a dog, cat or other pet, you probably visit the veterinarian on a regular basis—and it can be expensive, especially when an illness or emergency necessitates tests or surgery.
Pet health insurance works in a similar manner to human health insurance policies, in that they both include annual premiums, deductibles, co-pays and caps.
Health insurance is available for all types of pets, including dogs, cats, rabbits, ferrets, exotic birds, reptiles, potbelly pigs and various rodents.
Cost of coverage is based typically on the animal's age, health profile and the level of care you choose. Generally, older animals cost more to cover—and some companies have age limits. Also there may be exclusions for pre-existing conditions, and some insurers may not cover certain breeds that are prone to hereditary conditions (e.g. hip dysplasia).
3 general levels of pet insurance coverage
Basic coverage is the least expensive option. Basic coverage provides the lowest reimbursements for procedures, and will help pay for accidental injuries, poisonings and illnesses (including cancer). These policies typically include an annual deductible, caps on reimbursements per accident or illness, as well as caps on total reimbursements per policy term.
Comprehensive coverage is costlier than basic coverage, but offers more generous benefits, such as reimbursements for accidental injuries, emergencies and illnesses, and coverage for office visits, prescriptions, diagnostic tests, X-rays and lab fees. These policies feature lower annual deductibles than those for basic coverage, but also cap reimbursements per accident and illness, as well as on total reimbursements for the policy term.
Pet well care protection reimburses for preventive care, including physical exams, flea and heartworm prevention and vaccinations. While there is no deductible for well care, there is a nominal deductible for other medical services.
While shopping for pet insurance, you may come across veterinary discount plans, which are membership based services rather than an insurance policy.
With a veterinary discount plan, the member pays a monthly fee and then is entitled to reduced rates on pet services, medical procedures, prescriptions and products from a specific group of veterinarians who also agree to participate in the plan.
Note that, in the event of a catastrophic and costly pet illness or injury, a discount may be useful but you will likely still be out of pocket for much more than if your pet is insured. Also, unlike pet insurance, veterinary discount plans are not regulated by law.
Life and theft insurance
Life and theft coverage is designed to insure the lives of highly valuable animals, and is typically purchased by zoos or by the owners of championship cats, dogs, horses and police dogs. The policy reimburses owners of stolen animals, and pays a death benefit if an animal dies during transport or other covered events.
Rising adoption of pet insurance market
Dog segment accounted for over 80.5% market proportion in 2023 and is expected to dominate the market throughout the forecast period. The increasing segmental growth is attributed to rising adoption of dogs across the globe. For instance, according to the American Pet Products Association (APPA), 90.5 million families own a pet in the U.S. among which 69 million (over 76%) households own a dog.
Companies are focusing on providing solutions to the pet owners and spreading awareness regarding the cost reimbursement available in the market.
Moreover, care and concern for pets, especially dogs, marks the successful transition of Indians from pet owners 10 years ago, to pet parents now. With higher disposable incomes in developing countries like India, more people are now willing to spend on additional things like pets and their healthcare.
Also, countries in Europe such as U.K, Poland, France are noted to have some of the highest population of pet dogs and that will attract more pet owners to opt for various policy coverage. Thus, the counties with high population of dogs as compared to other companion animals is expected to create a lucrative opportunity for the pet insurance market expansion.
The key players profiled in the pet insurance market analysis are Embrace Pet Insurance Agency, Figo Pet Insurance, Hartville Group, Nationwide, Pet Assure, PetFirst, Ipet Insurance, Pets Best Insurance Services, Royal & Sun Alliance, Trupanion.
These players have adopted various strategies to increase their market penetration and strengthen their position in the industry.
This growth is owing to the emerging trend of pet adoption in the United States. Moreover, developing veterinary healthcare infrastructure and increasing awareness for veterinary health is expected to boost the regional pet insurance industry expansion.
Increasing number of pet insurance adoption for companionship
Rising number of pet adoption for companionship is expected to boost the market growth. Growing concern for animal healthcare is contributing to the growth of pet insurance market. Pet as largely adopted for companionship and are commonly considered as family member by witnessing a shift in trend form pet owner to pet parents.
North America pet insurance market is poised to exceed USD 5.6 billion by 2030. The market growth in North America is attributed to increasing adoption of pet and increasing consumer awareness regarding various innovative pet insurance policies. For instance, according to the North American Pet Health Insurance Association (NAPHIA) reported that the pet health insurance sector for the U.S. posted gross written premium of nearly USD 2 billion that exponentially grew over 27% as compared to USD 1.6 billion by the end of 2022.
This growth is owing to the emerging trend of pet adoption in the United States. Moreover, developing veterinary healthcare infrastructure and increasing awareness for veterinary health is expected to boost the regional pet insurance industry expansion.
Lack of awareness about pet insurance policies
For instance, according to the European Pet Food Industry, there were 88 million households owning a pet in Europe. Furthermore, pet adoption is also perceived to aid in depression, loneliness as well as low blood pressure, among others. Moreover, the increasing awareness surrounding pet insurance schemes owing to a significant effort by insurance providers is expected to significantly boost the industry landscape.
Limited awareness regarding the pet insurance policies and services in the developing regions may possibly hamper the pet insurance market growth. The disposable income per capita in the developing countries is relatively low as compared to their developed counterparts. Additionally, lack of awareness about various infectious, zoonotic disease is another factor impeding the market statistics.
The number of private veterinary practitioners are veterinary clinics are less in the developing countries owing to which pet insurance is not considered as a priority. Cats and dogs are the most common companion animals that can be direct and indirect source of the zoonotic infection.
Though such infections can be prevented by precautionary measures, but lack of awareness regarding such diseases in the developing countries may cause great harm to both infected pets and pet owners. Thus, the aforementioned factors and lack of awareness regarding pet insurance policies are some of the major factors hampering the market growth.
Accident & illness pet insurance market
By policy coverage, the accident & illness segment is expected to garner a significant share during the forecast period owing to surge in acceptance of pet insurance and increase in cost of treatments and medication fees.
Accident & illness pet insurance market could prove a cost-effective way of avoiding any large, unexpected bills due to its actions. However, others segment is anticipated to grow at a significant rate owing to, growing diversification in pets and improvement in pet policies which includes new types of pets such as turtles and others, is expected to provide lucrative opportunities for the market growth.
Pet insurance market share by policy coverage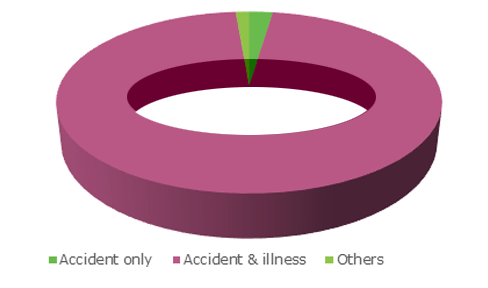 The accident & illness policy segment was valued at over USD 7 billion and is estimated to show significant CAGR during the forecast period. Increasing segmental growth is attributed to inclusive nature of the insurance policies.
Majority of the illness and accidents are covered in these insurance policy owing to which the customers prefer the accident & illness policy coverage for their pets. Furthermore, increasing zoonotic diseases and high veterinary cost for the diagnosis and treatment is expected to boost the market size. Also, rising awareness regarding the accident & illness policy is expected to spur the segmental demand.
Surge in popularity of pet humanization concept is increasing the demand for pet grooming and care products. Owners, especially millennials, are willing to spend more on their animals to ensure a healthy and secure life.
Region wise, the pet insurance market was dominated by Europe, and is expected to retain its position during the forecast period, owing to increase in adoption of pets in the UK, Italy, France and Germany.
Many insurance companies across Europe are coming up with various policy coverage to encourage pet owners to adopt dogs. These companies render services with plans for illnesses, injuries, and various diseases. However, Asia-Pacific is expected to witness significant growth in the near future, owing to growing awareness of pet care and pet insurance during the lockdown.
What does pet insurance cover?
It depends on the type of policy you go for, but as well as veterinary treatment for accidents and/or illnesses policies often include:
Third-party liability (dogs only)
This pays the legal costs if your dog's responsible for hurting someone or causing damage – for example, if they ran into a road and caused a car to swerve and crash.
Cats are considered 'free spirits' by law so cat insurance doesn't include third-party liability.
Some alternative therapies
If your vet recommends something like hydrotherapy or acupuncture for your pet, some pet insurance policies will cover these treatments.
You usually won't be covered for anything that you're not referred for by your vet.
Diagnostic costs for illnesses, like blood tests
The cost of working out what's wrong with your pet is covered.
Diagnostic testing can be quite expensive and some policies will put a limit on the amount they'll reimburse per test. If your vet's lab charges more for diagnostics you'll have to make up the shortfall yourself.
Advertising costs to find lost pets
Most pet insurance policies include some cover for the cost of making posters and putting up advertising for your lost pet. Some will even cover a reward.
If your cat or dog sadly can't be found your policy might also offer some compensation.
Euthanasia
At the end of your pet's life, most pet insurance policies will cover the cost of a vet putting them to sleep if it's necessary and to prevent further suffering.
After COVID-19 pandemic, the Pet Insurance market a declines
The pet insurance industry is segmented on the basis of policy coverage, animal type, sales channel, and region. By policy coverage, the market is divided into accident & illness, accident only, and others. By animal type, it is categorized into dogs, cats, and others. By sales channel, the market is divided into broker, agency, and others. Region wise, it is analyzed across North America, Europe, Asia-Pacific, and LAMEA.
Various countries across the globe have observed a significant rise in the adoption of animals, including dogs and cats as companion animals, Dogs and cats are not only the most preferred pets but are also known to improve the physical and mental health of humans.
Pet insurance companies are offering customized policies with the changing customer demand such as multi-pet insurance and many other. They focus on the packages as per pet lifetime and per incident. Furthermore, with the rise in number of pet owners many insurers are introducing new pet insurance which in turn is driving the growth of the market.
The pet insurance market has witnessed significant growth in the past few years; however, due to the outbreak of the COVID-19 pandemic, the market a suddenes decline.
This is attributed to majority of the diagnosis and veterinary centers being closed due to lockdown implemented by various governments.
COVID-19 has highly affected the industries in terms of growth, economy, health and mental wellbeing of every individual. Various pet associated companies are taking extraordinary care of pets during pandemic times. Insurance companies are trying to innovate and modify the policy coverage and policies depending upon the incidences of health conditions.
A Regulator's Guide to Pet Insurance
The Pet Insurance Working Group was established by the Property and Casualty Insurance Committee and charged to review the NAIC White Paper, A Regulator's Guide to Pet Insurance, to consider whether a model law or guideline was needed to create appropriate regulatory standards for the pet insurance industry.
A request for Model Law development related to pet insurance was adopted during the NAIC 2019 Spring National Meeting to address issues such as definitions, disclosures, violations, producer licensing, preexisting conditions, reimbursement benefits, and regulations for pet insurance.
The Property and Casualty Insurance Committee adopted an extension for revisions to the proposed Model Act.
Though the working group was disbanded at the end of 2021 since work on the model was thought to be complete, at the Spring 2022 National Meeting, the Property and Casualty Insurance Committee voted to reinstate the Pet Insurance Working Group so edits to the model law could be finished.
The National Association of Insurance Commissioners members pass a Pet Insurance Model Act to establish appropriate regulatory standards for the pet insurance industry, which has annual premiums of approximately $2.8 billion in total in-force premiums in 2021 (up over 30.5% from $2.175 billion in 2020) and over 4.41 million insured pets across North America, up 27.7% from over 3.45 million pets insured in 2020, according to the North American Pet Health Insurance Association.
…………………………
Sourse: The National Association of Insurance Commissioners (NAIC) provides expertise, data, and analysis for insurance commissioners to effectively regulate the industry and protect consumers. Founded in 1871, the U.S. standard-setting organization is governed by the chief insurance regulators from the 50 states, the District of Columbia, and five U.S. territories to coordinate regulation of multistate insurers.

by Yana Keller