The official start of the 2023 Atlantic hurricane season kicked off June 1, and is forecast to be a busy one, which is why homeowners need to prepare. Yet many lack even the most basic preventative measures, unaware of the risks they face, according to a new survey by the Insurance Information Institute (Triple-I), in coordination with Munich Re America.
A representative sample of 2,018 adults, ages 18 and older, living in the continental United States, were presented with approximately twenty questions about their perceptions of weather risks, experiences with weather risks, and their mitigation activities. Homeowners and the properties in which they reside are the focus of this report (homeowners sample size equal to 1,103).
Homeowners Perception of Weather Risks report provides insights into trends, behavior and how experiencing a weather event impacts consumer perceptions of future events.
88% of homeowners purchased homeowners' insurance. 32% of homeowners reported that they have been impacted by weather in the last 5 years. 25% do not expect to ever be impacted by weather risks
60% of homeowners state that they have not taken any steps to better protect their homes, while 40% have taken some steps — yet maintenance and improvements can help mitigate damage and reduce cost.
68% of homeowners report not being impacted by weather events in the last five years. As a result, 36% believe their residence will never be impacted by climate risk.
Populations are shifting into harm's way – More and more people are moving to southern states exposed to coastal weather events. These states include Texas, Florida, Georgia, and North Carolina. Many residents who are new to an area, don't know that they live in storm surge danger zones.
48% of homeowners say they have an evacuation plan — Being prepared for unforeseen weather events, by creating an evacuation plan can save lives.
20% of those surveyed have annual household incomes of less than $40,000, yet this population represents 48% of non-buyers of homeowner's insurance.  At lower income levels, homeowners' insurance, it was found, may be perceived as a discretionary purchase.
These findings show most people do not realize the risk and power associated with weather risks such as flooding.
According to the National Weather Service, flood waters result in more deaths than any other weather peril. Furthermore, unlike other weather risks, flooding is not covered by homeowners' insurance, but would need to be purchased by the homeowner and then added to a policy.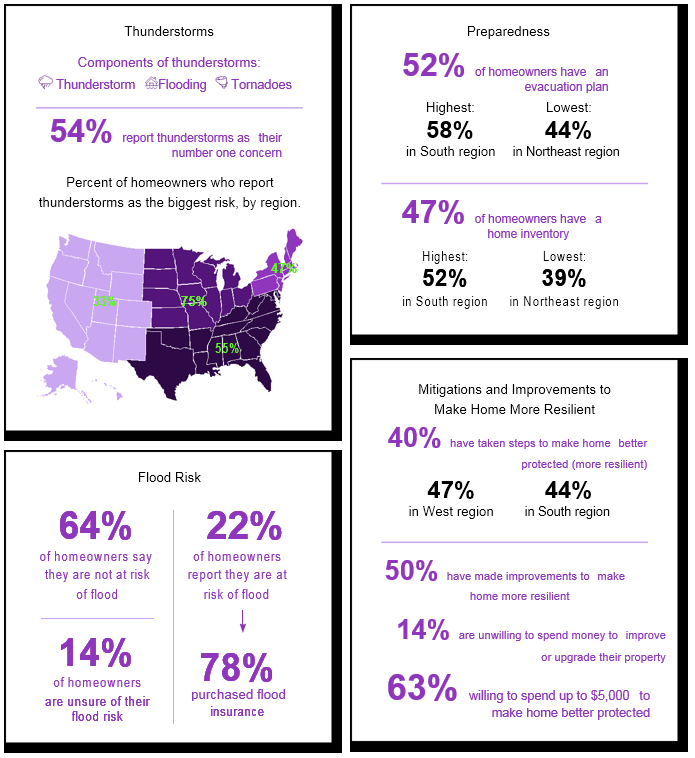 The survey revealed that of those who perceive they are at risk of flooding, 78%t have purchased flood insurance

Tim Brockett – Executive Vice President, and Head of Specialty, Munich Re US
This points to the fact that it is critical to educate consumers not only about flood risk, but also about obtaining proper coverage for this risk.
Insurance protect of Personal Property
Triple-I asked adults their perceptions of weather risks. While we cannot prevent weather events, we can become better prepared to protect our homes and property from such events.
An overwhelming majority (88%) of homeowners' report that they have purchased homeowners' insurance.
The high proportion is likely due to processes mortgage lenders have put in place to protect collateral either through requiring escrow accounts to collect and pay annual premiums or requiring owners to provide proof of insurance annually.
12% of homeowners who did not purchase homeowners' insurance is cause for concern. Twenty% of homeowners in the survey have household income less than
$40,000 per year, yet this population represents 48% of non-buyers and only 16% of buyers.
At lower income levels, homeowners' insurance may be perceived as a discretionary purchase. Weather does not discriminate by income, and low-income homeowners remain at risk.
Differences by income can inform how to target and educate individuals who do not purchase homeowners' insurance so that fewer homeowners are at risk and more low-income consumers are protected.
Logic would suggest that only a small proportion of low-income homeowners could withstand the total loss of their home from an unforeseen weather event without insurance coverage.
Perceptions of Weather Risks
Among the survey population of all homeowners, 59% believe their residence will be impacted by weather risks in the near term (within the next 10 years). Surprisingly, 25% do not believe that they will ever be impacted by weather risk.
This quantifies the size of the educational opportunity for the insurance industry. Being prepared for such events through mitigation and preparedness are an important part of managing weather risk at home.
Over what timeframe, if ever, do you think your residence might be impacted by climate risks/ weather events in the future?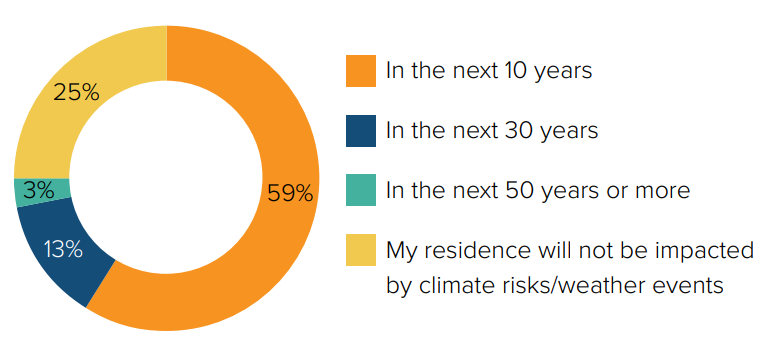 Community-based Education Needed as Solution
Brockett noted that the survey found approximately half of those purchasing flood insurance bought it from private insurers. This statistic speaks to the increasing involvement and appetite of private insurers to take on flood risk, based in large part to the improved flood modeling and aggregation methodologies available to the market.
Private insurers are also able to provide flood limits and coverages not available under the National Flood Insurance Program (NFIP).
The survey also highlights the ongoing need for education in every community throughout the country.
Many homeowners expect insurance to cover flood and are devastated when they find it does not

Sean Kevelighan, CEO of the Triple-I
Just how many low-income homeowners could withstand the total loss of their home from an unforeseen weather event without coverage? We found that the more educated homeowners are, the more likely they were to buy the coverage.
How to Make Consumers More Resilient to Weather Risks
More than just insurance coverage, being prepared for changing weather is vital to resilience. While homeowners cannot prevent weather events, there are steps to prevent damage or destruction of homes.
Maintenance activities include trimming trees, cleaning gutters, protecting outside HVAC equipment, removing combustible materials surrounding the home, and checking sump pumps.
Respondents were also asked about resilience-related improvements they have made to protect their home.
Two activities most often cited were:
using new building techniques to fortify roof, windows, doors, and walls;
installing smart sensors and cameras to monitor for damages.
Homeowners were also asked how much they would be willing to spend to better protect their home in the next year.
63% said they are willing to spend as much as $5,000, while 14% are unwilling to spend any money to improve or upgrade their property.
The most immediate danger that Americans face from increasing climate risk is the worsening of extreme weather, including hurricanes and floods.
The insurance industry needs to partner with communities and businesses at every level to promote a broad resilience mindset focused on pre-emptive mitigation and rapid recovery. As severe weather continues to threaten more communities, building resilience against these natural disasters is imperative.
AUTHORS: Sean Kevelighan – CEO of the Triple-I, Tim Brockett – Executive Vice President, and Head of Specialty, Munich Re US