Private equity and venture capital investment in financial technology and payments companies in Europe has been dwarfed by the $10 billion put into US companies in the first five months of the year, according to S&P Global Market Intelligence data.
Fintech has moved from the fringes of European finance to its core, but performance varies widely. If all countries could match the best in region, the economic benefits would be considerable (see Biggest FinTech Unicorns in the World).
By comparison, total private equity investment in European fintech and payments companies stood at $1.1 bn in the year to May 31.
The number of deals in Europe was 49, whereas the US saw 73 transactions during the period (see about Value of Global Private Equity Deals).
Shortage of large FinTech deals
In 2022, private equity deals in the European fintech vertical saw a number of transactions above $1 billion, but none so far in 2023 (see Global FinTech & InsurTech Funding Highlight & Investment Trends).
Looking at the deal counts, the drop has been less drastic compared to US deals and this could be explained by lower valuations and generally a lower appetite for large deals in an uncertain market

Angela Lai, head of APAC and valuations at Preqin's Research Insights product
Looking at subsectors, digital lending companies secured the most capital from private equity investors in the first quarter, bringing in $292.3 million in total transaction value. Companies in the payments industry came in second with $264.3 million (see Global Private Equity Responsible Investment Survey).
Global Private Equity & Venture Capital Investment in Finance Technology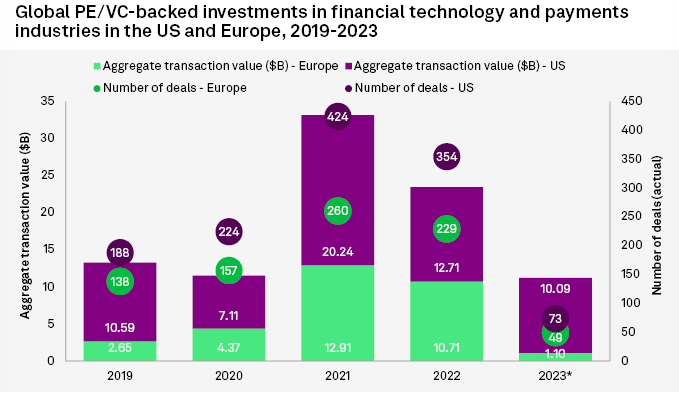 European fintech and payments companies attracted only $621.3 million in investments in the first quarter, more than 10x lower than the $6.73 billion reported during the same period a year ago.
By comparison, private equity investment in the US fintech and payments sectors ballooned to $9.71 billion from $4.35 billion year over year, on the back of Stripe's $6.87 billion series I funding.
Firms such as Andreessen Horowitz LLC, Founders Fund Inc. and Temasek Holdings (Pvt.) Ltd. participated in the round.
Global PE & VC Investment in FinTech in the US and Europe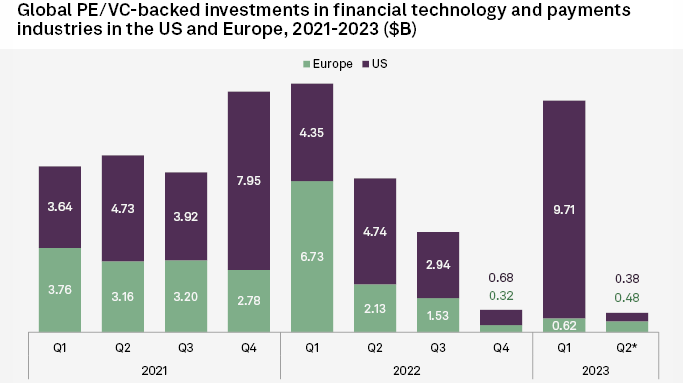 Global PE & VC Investment in FinTech by sector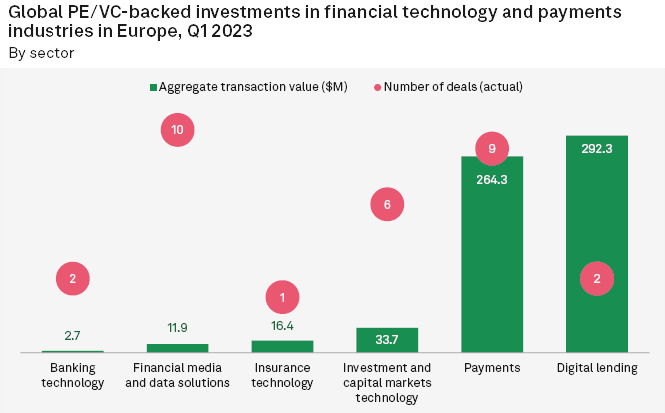 First quarter totals show the UK accounted for most of the investment value in fintech and payments companies, recording $549.0 million in aggregate. Of the 10 biggest investments in the first quarter, six went to UK-based companies (see US Insurers' Investments to the Failed Banks are Modest).
Europe's fintech sector has moved quickly from the fringes of the financial landscape in Europe to its core.
In each of the seven largest European economies by GDP—France, Germany, Italy, the Netherlands, Spain, Switzerland, and the United Kingdom—there is now at least one fintech among the top five banking services institutions, as measured by market value.
Global PE & VC Investment in FinTech by country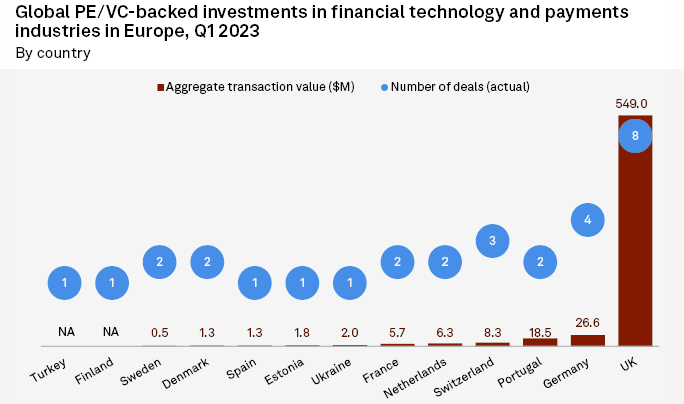 If we look at venture capital fintech deals, then the UK is definitely an important market which has made up roughly half of Europe's deal value in recent years.
Germany came in second with $26.6 million, followed by Portugal with $18.5 million.
The growing appeal of fintechs is that they create value with superior service at lower costs. For example, international transfers and the end-customer price of stock trades transacted through fintechs can cost just 10 percent of the rates charged by traditional banking services institutions.
Strong fintechs offer customers greater choice and convenience
According to McKinsey, the competition they bring to banking systems is already helping modernize the financial sector ecosystem in several European countries.
We focus on three key aspects of Europe's fintech sector: founding, funding, and scaling—that is, fintechs' ability to set up in the first place, the ease with which they can access capital, and how well they can grow and thrive.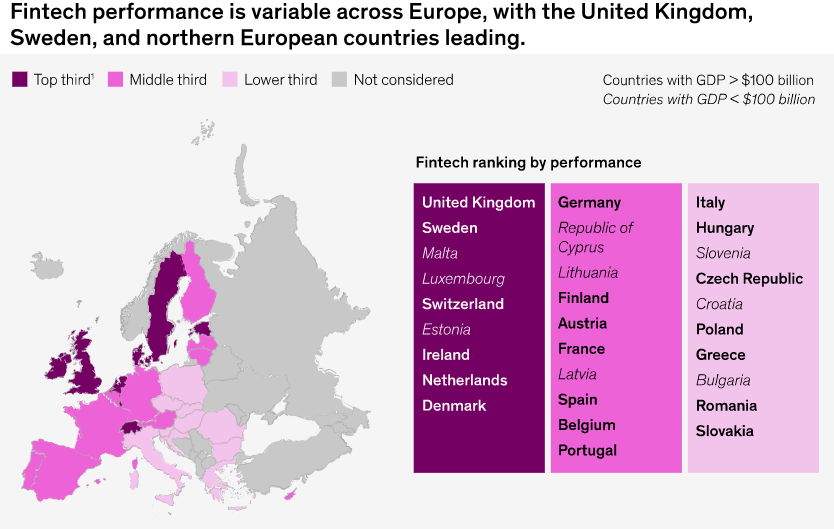 If fintech ecosystems in all European countries were able to attain the same level of performance as the best in the region, the upside could be substantial.
The number of fintech jobs in Europe would grow by a factor of 2.7 to more than 364,000; the volume of funding would more than double to almost €150 billion from €63 billion; and valuations would grow by a factor of 2.3 to almost €1 trillion—almost twice the combined market capitalization of Europe's top ten banking players.
FinTech Top deals
The biggest deals in the first quarter were travel commerce platform Travelport Worldwide $200 million investment from Siris Capital Group and Elliott Management Corp. and maritime leasing platform Neptune Maritime Leasing $200 million investment from Costamare Inc. and Latsco Family Office SA.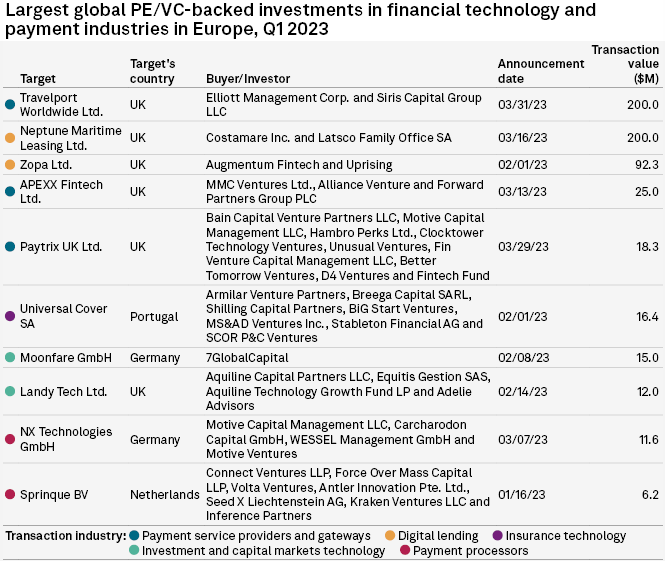 Some fintechs offer financial opportunities to customers who may not have been able to access them otherwise, including asset classes such as private-equity funds, venture capital funds, and infrastructure funds that were previously available only to institutions. Other fintechs focus on previously underserved customer segments, such as small and medium-size enterprises.
Fintech Tree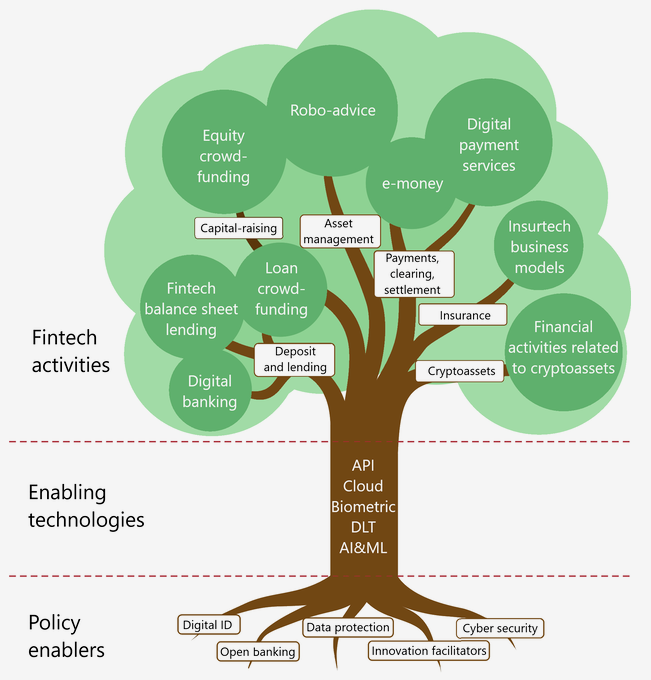 Fintechs are a catalyst for disruptive innovation and growth. With their agility and speed, fintechs are well equipped to accommodate many new trends in the financial sector, including embedded finance and distributed-ledger technology (DLT).
They tend to launch new products and services much faster than incumbent banks, with an average time to market of two to six months versus 12 to 18 months for incumbents.
Fintechs also act as ongoing challengers and front-runners in providing a unique customer experience and lean-banking processes. Today, many leading European banks rely on various fintech partnerships across a wide range of areas, particularly in operations and payments.
Fintechs are an important source of potential growth. Across Europe, they have created approximately 134,000 jobs. Vibrant start-up hubs such as Amsterdam, Berlin, London, Lisbon, Madrid, and Paris attract international talent; fintechs in Europe have scaled up their hiring significantly at a time when incumbent banks in Europe have been reducing their workforces.
FinTech funding growth
The countries in Europe that perform the best have among the highest funding per capita. In countries that perform less well, including Greece, Poland, and Romania, per capita funding is significantly lower.
While some countries have managed to increase per capita funding by as much as a factor of six in the past three years, Hungary, Italy, Poland, and Portugal still lag behind their peers significantly because the total volume of funding is still low.
The growth rate in recent years of fintech funding in some countries—such as Germany, Greece, and Ireland—has slowed or even decreased in comparison with markets such as the Netherlands and France.
The United Kingdom is the top country in both early-stage (seed and series A) and late-stage (series B+) per capita funding. The United Kingdom led the European market with a total volume of approximately €1.3 billion for early-stage funding and €8.3 billion for late-stage funding.
That performance compares favorably with other countries, including the United States: while US GDP is about ten times larger than the United Kingdom's, US spending on funding is only four times larger.
………………………….
AUTHORS: Karl Angelo Vidal, Annie Sabater – S&P Global Market Intelligence data analytics