The cost of UK motor insurance has soared to an all-time high, according to Financial Times' index, heaping extra pressure on households already confronting a cost of living crisis.
Motorists were quoted an average of £776 for motor policies in the second quarter, up a record 40% on the previous year, according to an index from Confused and insurance broker Willis Towers Watson.
The rising cost of the UK motor insurance
The UK motor insurance market achieved an underwriting profit, largely due to post-pandemic factors, including low levels of commuting resulting in fewer claims.
Motor insurers last year recorded a Net Combined Ratio (NCR) of 96.6%, according to EY's latest UK Motor Insurance Results, which followed a NCR of 90.3% in 2021 – the industry's best ever result.
The average cost of the motor insurance deals rose by 17.4%, according to the latest motor insurance price index by Consumer Intelligence.
The rising cost of motor insurance has added to the cost-of-living pressure experienced by Britons. With average premiums now costing £877, price rises in car insurance have outstripped inflation for the wider economy at 10.7%. The surge has been expected following the ban on price walking.
The price increases we're seeing are so significant that it's going to cause real financial impact to many people

Steve Dukes, Confused chief executive
The second-quarter figure exceeded a previous 2011 peak of £663 to be the highest since the data set began in 2006. The methodology of the index was amended two years ago, with historic figures restated to be comparable, according to NimbleFins research.
Average Cost of UK Motor Insurance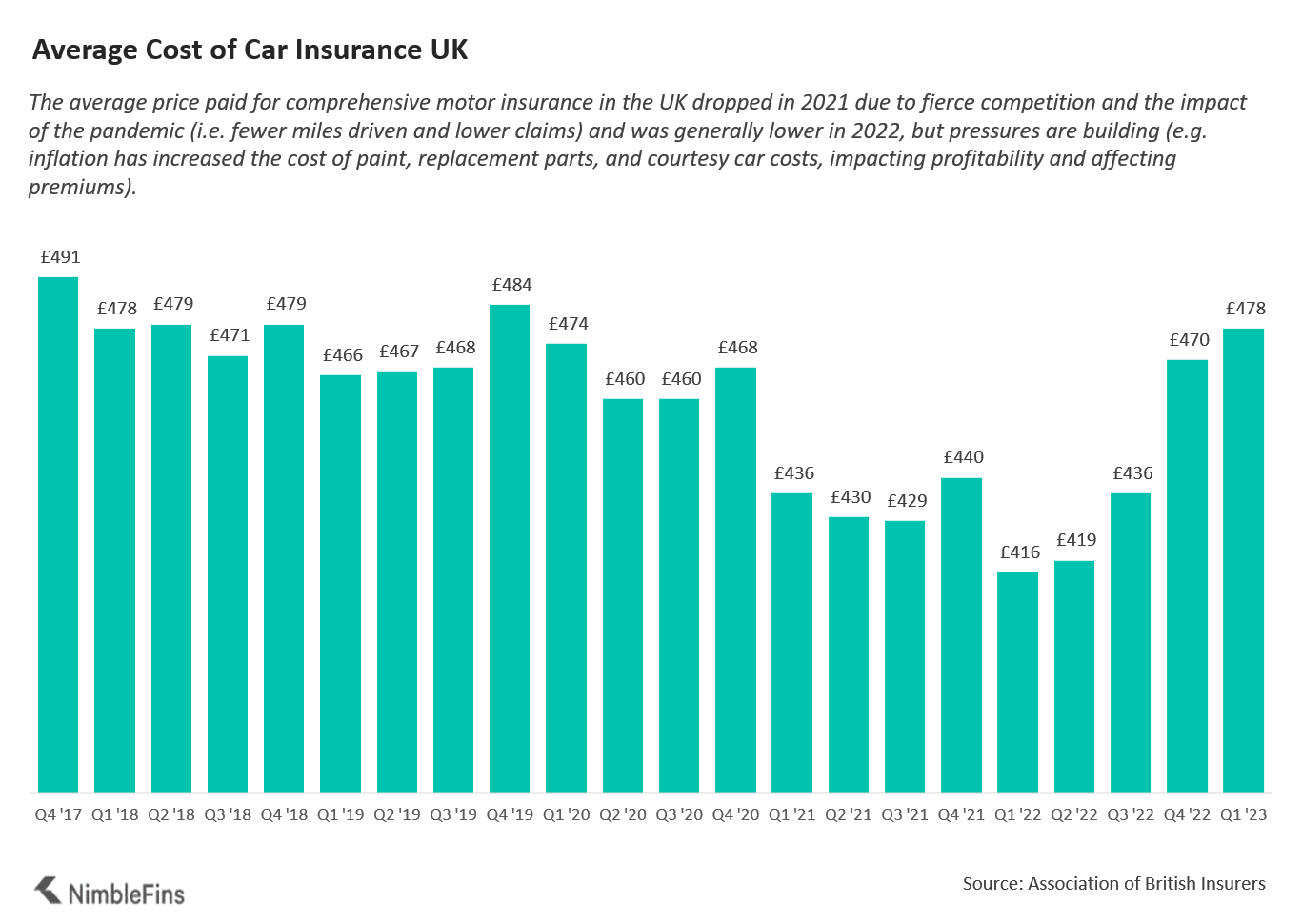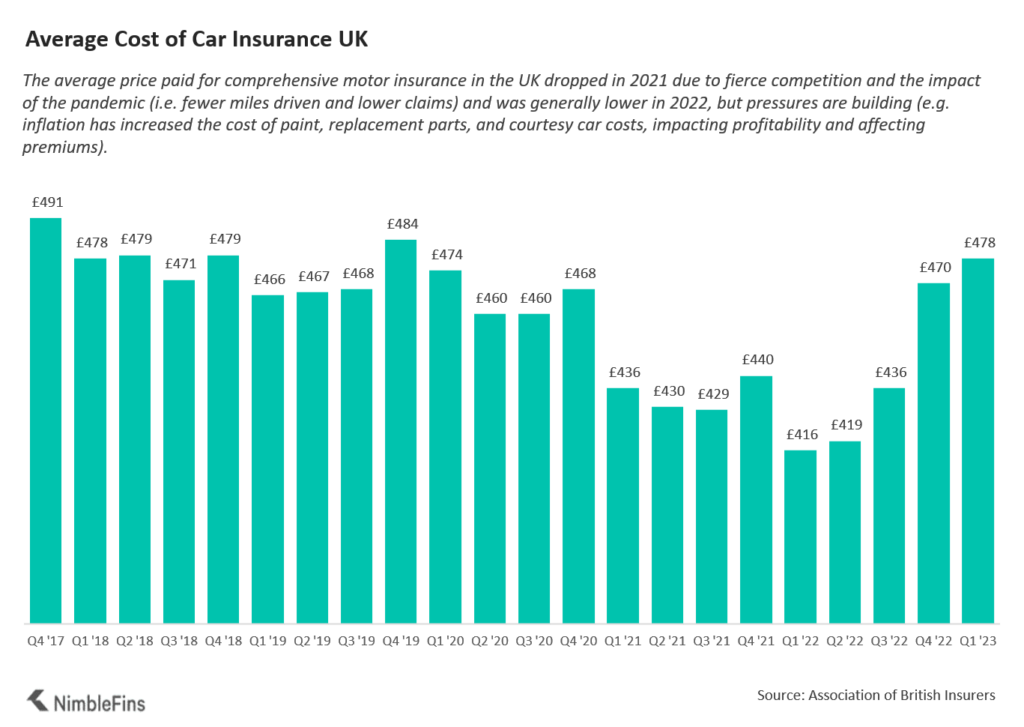 Consumers were facing price hikes from every direction, including essential services. Rising costs have eviscerated profits for UK car insurers (see UK Motor Insurance Results).
The average cost of UK comprehensive car insurance was £478 between January and March 2023—up 16% from £412 a year earlier (Q1 2022).
Interestingly, average costs vary depending on whether you're renewing or buying a new policy. The average price paid for a renewal was £436 while the average premium for a new policy was £545.
Inflationary pressures are to blame for the rise, with paint and materials rising 16%. And courtesy car costs are up 30%.
Average Car Insurance Cost UK, 2020-2023
| | |
| --- | --- |
| Q1 2020 | £474 |
| Q2 2020 | £460 |
| Q3 2020 | £460 |
| Q4 2020 | £468 |
| Q1 2021 | £436 |
| Q2 2021 | £430 |
| Q3 2021 | £429 |
| Q4 2021 | £440 |
| Q1 2022 | £416 |
| Q2 2022 | £419 |
| Q3 2022 | £436 |
| Q4 2022 | £470 |
| Q1 2023 | £478 |
Source: NimbleFins
The charity has estimated that one million people cancelled their car insurance last year as bills piled up, with those on universal credit especially likely to do so.
Car insurance is an everyday necessity for so many people, whether the car is needed to get to work, take children to school, or loved ones to appointments

Matthew Upton, interim executive director of advocacy at consumer charity Citizens Advice
Now is the time for the government and insurance industry to consider bold ideas  to make sure no one is left stranded, suggesting discounted so-called social tariffs for people on benefits as an example.
Prices in inner London, where motorists pay the most, have now reached an average of £1,257.
Young people pay even more: male drivers aged 17 to 20 across the UK saw their premiums rise by 60% to £2,414 on average, according to the index.
Insurers argue significant price rises are essential given the inflation in the value of payouts on accident claims, which reflect the rising costs of labour, car parts and replacement vehicles.
Average Motor Insurance Cost in UK by driver age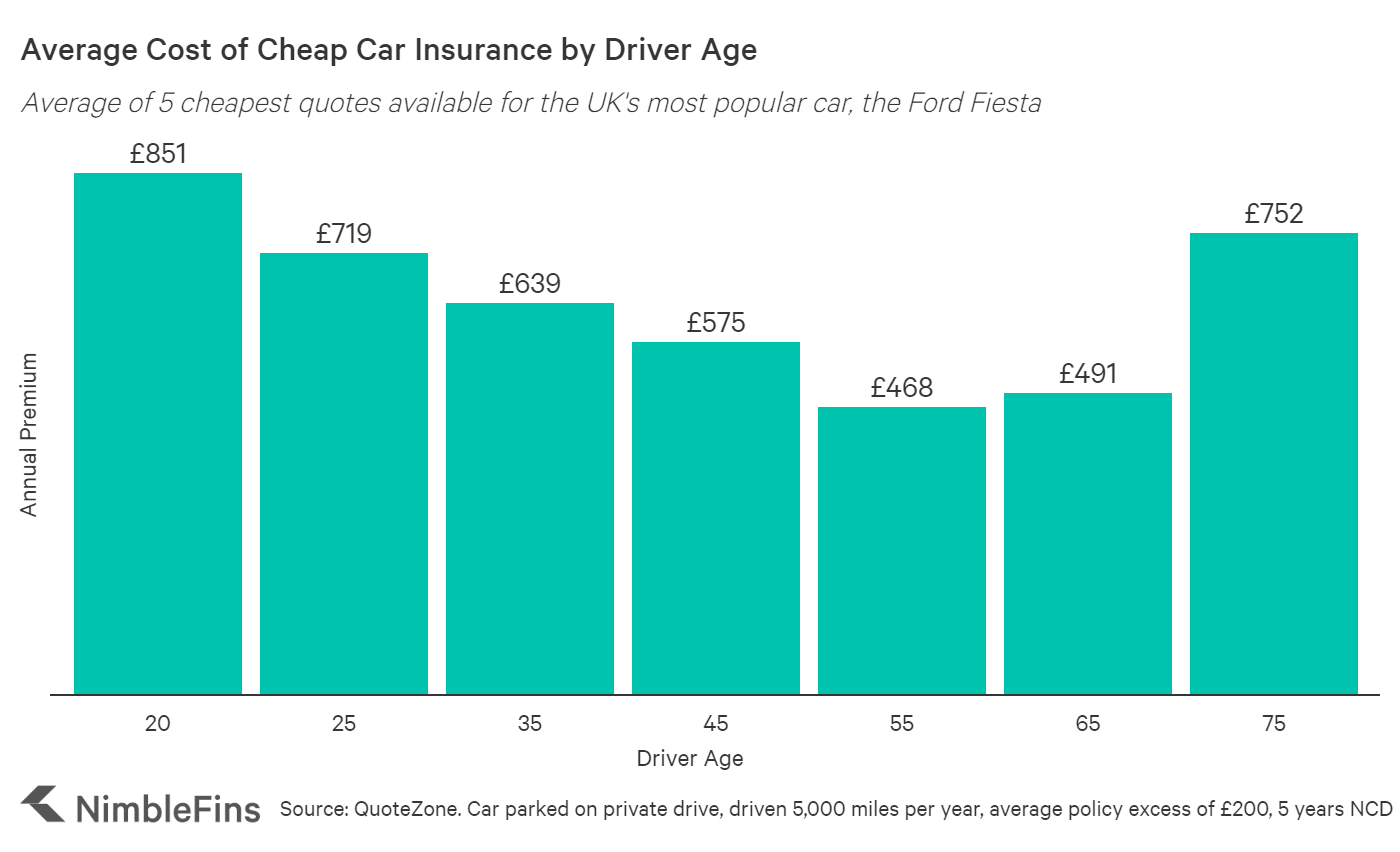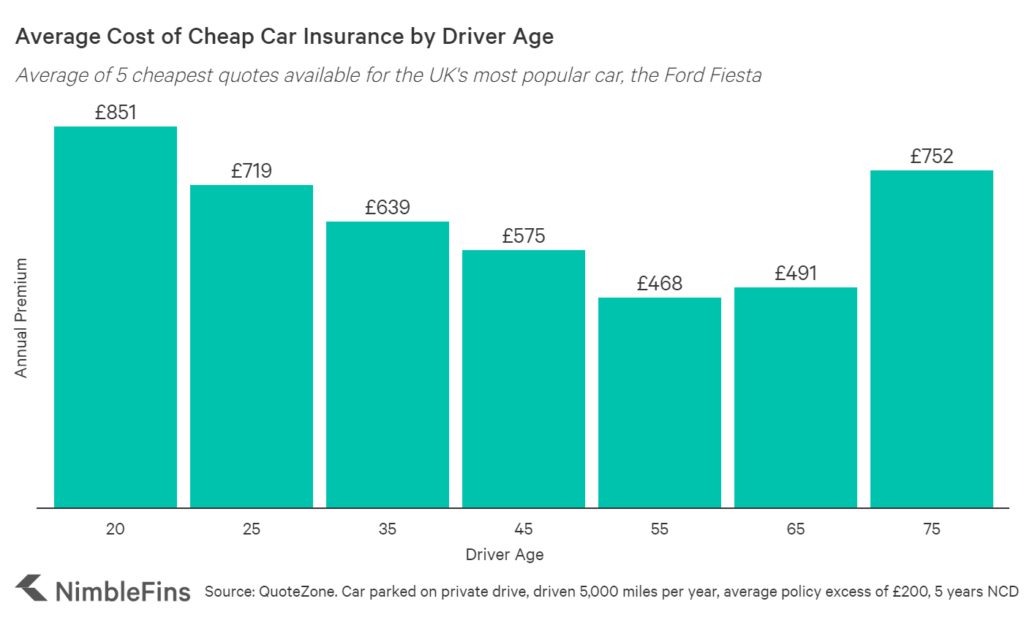 What is surprising, however, is the number of product launches we are seeing, especially the growing number of essentials products. To highlight this, the number of total brands quoting across the price comparison website market reached its highest point since our tracking began in 2014.
Insurers were having to deal with a rising costs, including rising vehicle theft and long repair times, which are all pushing costs above premium income and forcing insurers to play catch-up by increasing prices.

Tim Rourke, UK Head of P&C pricing, product, claims and underwriting at Willis Towers Watson
Rates for older drivers increased by 21% for over-50s. This is more than double the rate of increases for under-25s at 9.1%.
Average Cost of Cheap Motor Insurance by Driver Age
| | |
| --- | --- |
| Age | Motor Insurance Cost |
| 20 Years | £851 |
| 75 Years | £752 |
| 25 Years | £719 |
| 35 Years | £639 |
| 45 Years | £575 |
| 65 Years | £491 |
| 55 Years | £468 |
Source: NimbleFins
Meanwhile, motorists in Wales faced the largest increases at 24.5%., followed by the South West (21.1%) and the South East (20.7%). London was in fourth place at 19.3%, followed by Scotland at 19.1%. The increase in the North East was the smallest in the UK at 9.9%.
Edited by

Nataly Kramer