Autonomous mobility has the potential to dramatically transform the automotive insurance market, from underwriting to claims and beyond (see New Trends that Will Disrupt US Auto Insurance Market). Consider a hypothetical US consumer of the future, Jane, who acquires her first semiautonomous car, attracted by its connected technology and advanced-safety capabilities. Crucially, it comes with insurance that calculates her premium payments by automatically assessing her driving in real time through the wireless connectivity feature incorporated into such vehicles.
As she drives her new car, the vehicle's system senses risks both when she is driving manually and when she is in autonomous mode. Jane receives helpful feedback on how to drive efficiently to conserve energy and to manage insurance costs, and she has access to a wealth of real-time information, including current per-mile insurance costs and energy usage rates.
During one particular drive, Jane receives an important call and switches on the autonomous-driving option so she can focus on her conversation. After the call, she switches back to manual driving—and both her car and her insurance adjust in real time. While she's driving the car, insurance liability lies with her. But while the autonomous mode is engaged, liability shifts seamlessly to the manufacturer.
As Jane continues on her journey, software engineers monitor the driving effectiveness of her vehicle and vehicles like hers. Based on performance data they receive, engineers release software updates to improve the performance of Jane's vehicle. Essentially, her vehicle adapts and improves continuously, improving safety performance over time and reducing overall insurance costs.
Suddenly, she is rear-ended by another vehicle. Onboard sensors, cameras, and telematics capture the collision and convey these data in real time to the insurer's claims system, which is built on artificial intelligence (AI). The system determines that although the accident was minor, the car cannot be used safely. AI immediately begins determining the best way to handle claims and researching nearby robo-taxi, towing, and vehicle-repair companies.
Shortly afterward, Jane receives a call from an insurance associate who checks on her and lets her know that a robo-taxi will be there within minutes. She can leave her car, and roadside assistance will take it from there. When Jane arrives home, she checks the status of her vehicle and any repairs through a mobile app—which also gives her the status of her claim.
While not all of the technology illustrated in Jane's journey is currently in every car, all of it exists today. And as mobility technology and automotive and insurance AI reach critical mass, a new era will be ushered in, promising not only a radically new experience for consumers but also new commercial opportunities for insurance carriers and automotive OEMs. These opportunities are likely to be keenly contested as disruptive technology enters the long-established automotive and insurance ecosystem.
Technologies that will shape the future of mobility
Three technologies will shape the future of mobility and global auto insurance: autonomous driving, connectivity and embedded telematics, and vehicle electrification.
But these technologies will also shape an exciting new business dynamic for OEMs and insurance carriers. On the one hand, the introduction of the connected car and embedded telematics means OEMs will have more access to the customer and vehicle data than ever.
It also means OEMs will be in an advantageous position to disintermediate insurers. Moreover, the McKinsey Center for Future Mobility expects connected cars to account for 90 percent of new US vehicle sales by 2025.
On the other hand, insurers may be able to take advantage of the technology and mobility trends described in Jane's journey to capitalize on insurance that is based on vehicle usage in real time, combined with an automated-claims process—creating opportunities to improve both loss and expense ratios.
Such advanced-mobility technologies are developing quickly and will usher in three phases of the overall evolution of auto insurance.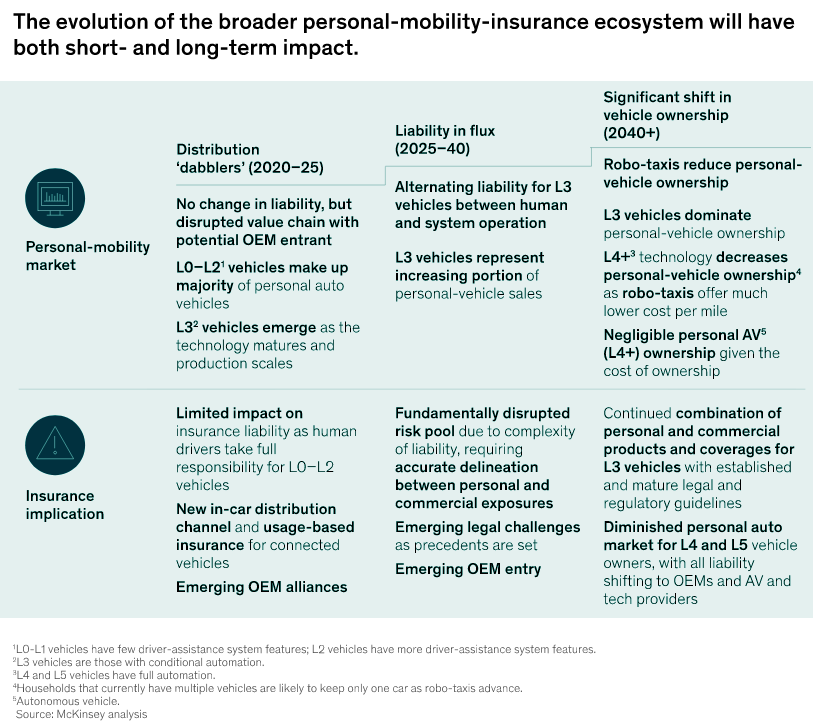 Autonomous driving
Autonomous driving could be the most disruptive influence on the insurance market for a simple reason: it promises to significantly reduce the frequency of accidents, resulting in improved safety and the means to shift auto insurance to a "predict and prevent" product. Significantly, the burden of car insurance liability will shift from the human operator to the commercial party associated with the autonomous-vehicle (AV) technology and capabilities (for more on AV liability by type of vehicle, see sidebar, "Six types of AV capability").
Commercial-trucking applications will be the principal driver of autonomous-vehicle technological development, and industry experts express confidence that autonomous trucking (L4 and above) will be on highways within the next five years.
In the meantime, technology for autonomous passenger vehicles is likely to receive a boost from investment in commercial applications. By the middle of this decade, our analysis suggests that sales of new L2 and L3 vehicles will reach 60 percent and 3 percent, respectively. By contrast, capabilities at or above the L4 level are unlikely to materialize significantly in personal vehicles in this decade.
Connectivity and embedded telematics
Connected vehicles use wireless technology to communicate with external entities, sending and receiving data as part of services that are provided to the driver or vehicle's owner.
Unlike today's mobile apps and aftermarket devices, which require customer engagement and installation to facilitate limited connectivity, the embedded technology in this new era of connected telematics will yield a seamless and passive customer experience, ensuring a high-quality, continuous, bidirectional flow of information.
The quality of data available will also exceed the quality and amount of mileage, GPS, and accelerometer data available today. Added insights may include collision warnings, steering wheel position, seat belt use, tire pressure, and camera captures.
While connectivity is crucial for autonomy, its potential value far exceeds market application. With connectivity, OEMs can envision an array of services, insights, and customer engagement opportunities that extend well beyond today's limited new-vehicle purchasing experience.
As profit margins on new vehicles continue to shrink, the potential for new recurring revenues unlocked by connectivity and "vehicle as a platform" innovations will ensure that this capability gains traction.
Vehicle electrification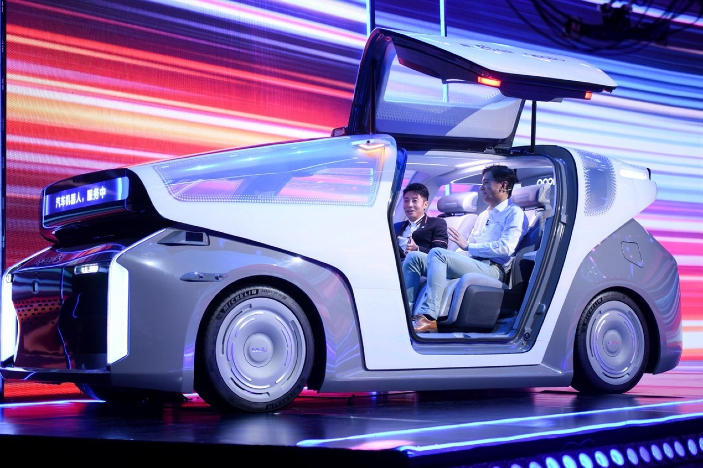 While electric vehicles (EVs) will introduce some near-term changes to insurance, including miscellaneous new coverages and consequences for claims handling, we see EVs as an enabling platform for autonomous driving and connectivity, with more potential for disruption coming from its direct-to-consumer sales model.
Combined with state and federal policy objectives that encourage adoption—such as direct-sales legislation and rulings, charging-infrastructure subsidies, and the Biden administration's 2030 target of 50% electrification—the push toward EVs will accelerate market change.
Crucial role of software and networked communication
Autonomous operation of vehicles in mixed traffic is much more challenging. Radar and lidar sensors, cameras, as well as intelligent, adaptive software on board the vehicles and networked communication play a crucial role here. They enable vehicles to individually assess and manage the highly complex situations typical of today's urban traffic.
In road transport, fleets of autonomous, electrically powered shuttle buses open up new possibilities for seamless connectivity for the first- and last-mile.
Insurance carriers are accustomed to selling and distributing bundled products to households indirectly through agencies and brokers, as well as directly through digital and "captive agent" channels, which requires significant investment in marketing and commissions.
As the number of connected vehicles grows, so too will in-vehicle services and products, including insurance. In fact, the top three property and casualty (P&C) insurance carriers collectively spent more than $5 billion on advertising in 2020.
We see potential for one or more OEMs to take the first step beyond the partnerships they have started to capture a significant share of this new, connected automotive market. They have (or can quickly develop or acquire) all the necessary capabilities.
The market is also ripe for insurers to explore, but capitalizing on the opportunity will require the right market alignment. An insurance carrier's ability to identify and implement the appropriate partnership model with OEMs will be key. Insurers should pursue partnerships early and strategically, asserting themselves in a central role in the auto insurance journey.
……………………
AUTHORS: Tanguy Catlin – Senior Partner McKinsey; Russell Hensley – Partner in McKinsey's Detroit office; Philipp Kampshoff – Senior Partner in McKinsey's Houston office; Doug McElhaney – Partner in McKinsey's Washington, DC, office