Natural catastrophe losses are on the rise globally, and hurricanes account for a significant proportion of them. While it's tempting to ascribe the increased losses to climate change, the available data doesn't support that conclusion, according to a new Insurance Information Institute Issues Brief.
In fact, recent research indicates that tropical cyclones (the umbrella term for hurricanes, typhoons, cyclones) have actually decreased in both number and accumulated cyclone energy over the past 30 years.
Atlantic hurricane season is "well above average"
Florida, South Carolina, Georgia, and Delaware saw population growth in the 2010s that dramatically expanded the property damage a hurricane could cause in those states (see TOP 20 Costliest U.S. Hurricanes).
The 2022 Atlantic hurricane season is expected to be "well above average" in terms of the number of named storms, hurricanes, and "major" (Category 3, 4, or 5) hurricanes

Issues Brief – Hurricanes: State of the Risk
The La Niña climate pattern is marked by cooler-than-average water in the central Pacific Ocean. During La Niña, the Atlantic hurricane season tends to be more active and the Pacific season is usually much quieter.
Although there may be fewer worldwide tropical cyclones, the damage they cause is increasing – mainly because more people have been moving into harm's way since the 1940s, and Census Bureau data show that homes being built are bigger and more expensive than before.
Insured losses from hurricanes
Insured losses from hurricanes have risen over the past 15 years as hurricane activity has intensified. When adjusted for inflation, nine of the 10 costliest hurricanes in U.S. history have struck since 2005.
In addition to increased storm activity, coastal construction has continued, and property values risen, resulting in higher loss exposure (see how Insurers Poorly Prepared for the Increased Losses by Catastrophe & Flooding).
While wind speeds and storm surge in coastal areas grab headlines, inland flooding is on the rise, as shown in the map below, which tracks Hurricanes: State of the Risk.
Insurers in every coastal state from Maine to Texas include deductibles for hurricanes/windstorms in their homeowners policies.
Key Insurance Considerations changes in National Flood Insurance Program (NFIP) claims over the past two decades (see Global Insured & Economic Losses).
With bigger homes filled with more valuables and replacement costs on the rise, the data suggests that demographic changes play a greater role in catastrophe-related claims and losses than weather and climate do. But while hurricanes may not be more frequent or significantly more intense, they do appear to be getting wetter.
In August 2021, Hurricane Ida brought strong winds and heavy flooding to the Louisiana coast before delivering so much water to the northeast that Philadelphia and New York City saw flooded subway stations days after the storm passed.
Ida also caused a surprising death toll thousands of miles from where the storm first made landfall: the storm claimed the lives of more than 40 people in four states.
The population growth occurred in four states with coastal exposure to hurricanes
Citing U.S. Census data, Triple-I reported double-digit percentage population growth occurred in four states with coastal exposure to hurricanes since 2010: Florida (+14.6%), South Carolina (+10.7%), Georgia (+10.6%), Delaware (+10.2%).
While wind speeds and storm surge in coastal areas grab headlines, inland flooding is on the rise

Triple-I's Issues Brief
Hurricane Ida, for example, made landfall in Louisiana on Aug. 29, 2021, and days later brought deadly flooding to parts of Connecticut, Maryland, New Jersey, New York, and Pennsylvania far from the coastline, a National Oceanic and Atmospheric Administration report found.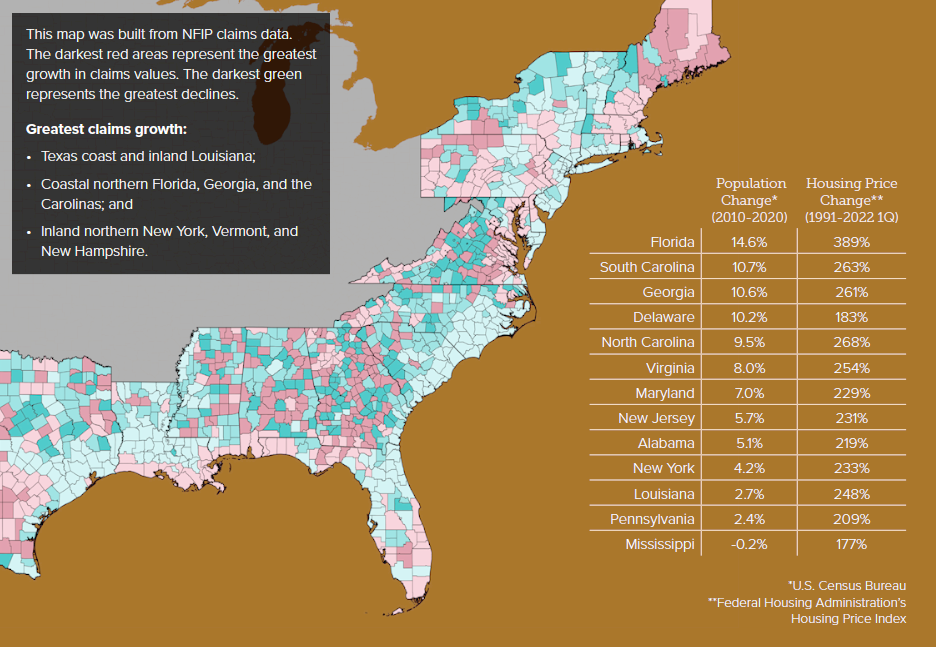 The 2022 Atlantic hurricane season began on June 1 and ends on Nov. 30. Colorado State University's (CSU) Department of Atmospheric Science last week projected the formation of 17 more named storms this year, on top of the three which already developed: Alex, Bonnie, and Colin.
CSU envisions 10 of the 17 storms will become hurricanes, and five of the 10 will be classified as major ones.
A typical hurricane season includes 14 named storms, seven hurricanes, and three major hurricanes.
Winter Storm Elliott likely delivered insured losses of $5.4 bn across 42 states after sweeping the bulk of the United States at the peak of the Holiday season, Karen Clark & Co. estimates based on its high-resolution US winter storm reference model.
Catastrophe risk modeller RMS has pegged total private market U.S. insured losses from Hurricane Nicole at less than $2 bn, with a best estimate of $1.6 billion.
The estimates from RMS reflect insured wind, storm surge, and inland flooding impacts for the U.S. RMS sees private market insured losses of between $1.2 billion and $1.8 billion for wind (including coverage leakage) and surge, and inland flood (excluding NFIP) losses of less than $100 million, giving a total excluding the NFIP of between $1.3 billion and $1.9 billion.
The brief offers three pieces of insurance advice to those in hurricane-prone states:
Check your homeowners' insurance policy to make sure the structure's policy limit, listed under Coverage A, is high enough to rebuild the home in the event of a total loss
Review your policy for hurricane deductibles;
Consider purchasing a flood insurance policy, because flood-caused property damage is not covered under standard homeowners' insurance policies
Standard homeowners insurance policies cover a house's structure and contents for wind-caused property damage. Flood policies cover a house's structure and contents damaged by flood. The latter are offered through FEMA's National Flood Insurance Program (NFIP) and several private insurers.
Reinsurance Rates for U.S. & Florida NatCat Policies
U.S. property catastrophe reinsurance rates rose by as much as 50% at a key July 1 2023 renewal date, with states such as California and Florida increasingly hit by wildfires and hurricanes, according to Beinsure Data.
U.S. reinsurance rates for policies which previously faced claims for natural catastrophes rose 30-50%. Reinsurance rates for similar policies in Florida rose 30-40%.
Reinsurers in particular are feeling the heat as they accumulate losses from primary companies. To counter this, many are raising prices, limiting coverage and even exiting some markets to improve returns, according to Gallagher Re.
According to Global Reinsurance Property Catastrophe Market Outlook, reinsurance has been available this year for Florida insurers during a critical period in June and July when many reinsurance contracts are renewed.
The 2023 mid-year renewal was orderly for Florida-domiciled insurers, which are heavily reliant on reinsurance to trade and meet solvency and ratings requirements, according to Aon report.
Reinsurers have experienced poor profitability in their Florida programs in recent years, because of a combination of high catastrophe losses and claims litigation costs significantly above the US average.
A number of reinsurers have reduced their exposure to the Florida market over the past few years, by writing less coverage, increasing the minimum dollar amount of damages that primary insurance must cover before reinsurance will apply, and increasing their own retro coverage.

Edited & Fact checked by Oleg Parashchak