Global pension fund involvement in M&A plummeted in the second quarter to the lowest quarterly level since 2019, according to S&P Global Market Intelligence.
Pension fund sponsors invested in 22 disclosed transactions that totaled $740 million from April to June.
That compares to investing in 36 deals totaling $3.83 billion in the second quarter of 2022 (see M&A in the Global Insurance Industry).
Quarter over quarter, the cumulative value of deals with pension fund involvement plunged 94.7%, an abrupt decline after a solid first quarter with 28 deals accounting for $13.95 billion in aggregate.
Global Pension Fund sponsor activity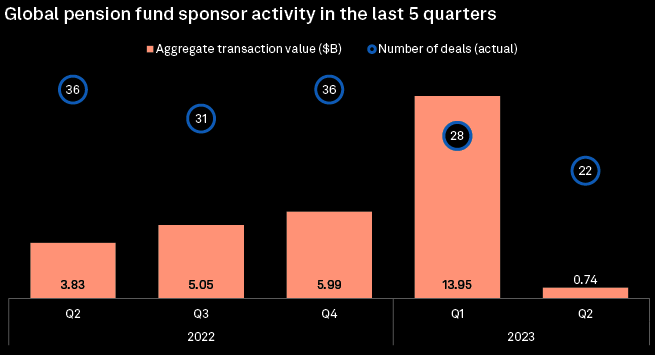 Pension fund involvement in M&A appears to be on track for a flat-to-slight improvement in 2023 compared to a year earlier, though encouraging signs of cooling inflation and speculation that interest rate hikes are near the end could encourage a stronger second half.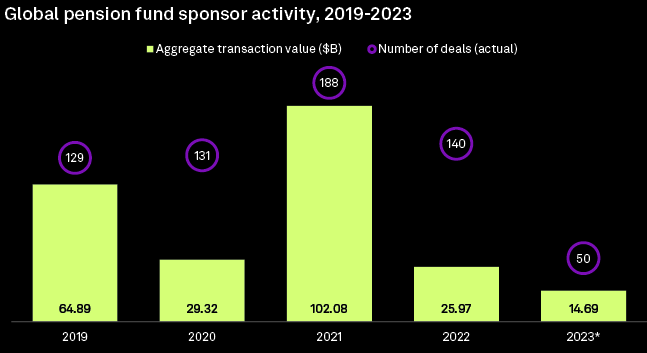 Sector exposure
The technology, media and telecommunications sector was the most attractive sector for pension funds in the first half, investing in deals with a total value of $12.95 billion. The financials and energy sectors followed with $660 million and $320 million, respectively.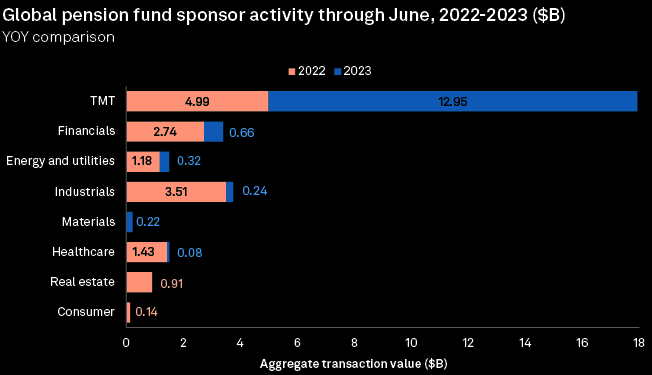 For full year 2022, the technology, media and telecommunications sector attracted the most pension fund investment, with a total deal value of $7.55 billion. The energy and industrial sectors followed with $5.55 billion and $3.69 billion, respectively.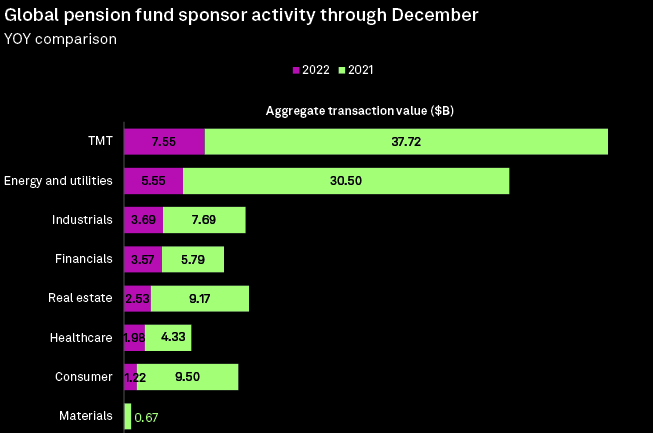 Top Global Pension Fund's transactions
Private equity was an investor in five of the 10 largest transactions that involved pension funds during the second quarter.
In the biggest deal with pension fund involvement overall, Toronto-based private equity firm Kilmer Van Nostrand was the target rather than an investor.
Canadian pension fund OMERS Administration Corp. agreed to acquire a 20% stake in Kilmer for $303.7 million.
The second-largest transaction of the quarter was a $200 million funding round for Indonesia-based PT. Multidaya Teknologi Nusantara, which provides a feeding solution for fish and shrimp farming.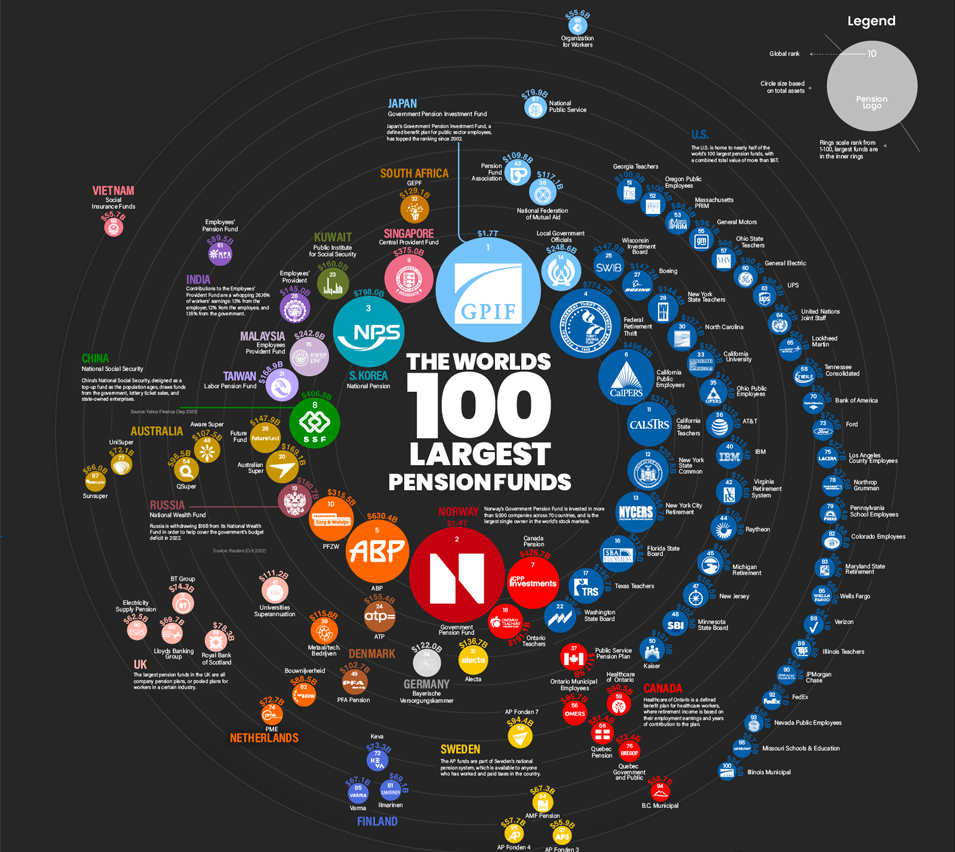 Private equity firms Temasek Holdings, SoftBank Investment Advisers (UK), Ability Investments AG, Northstar Advisors, Abu Dhabi Growth Fund and 500 Global invested in the round, along with Malaysian government pension plan sponsor Kumpulan Wang Persaraan.
Wuxi Huaguang Environment & Energy Group's $41 million deal to acquire a 49% stake in China Resources GCL (Beijing) Thermal Power from Usual Win and GCL Smart Energy was the third-largest deal for the period.
Global Pension Transparency Benchmark
According to Global Pension Transparency Benchmark reveals that increased scrutiny on public disclosures is driving measurable improvements.
More than 77% of the reviewed organisations improved their total transparency scores. The average fund scored 60 out of 100, an improvement of five points relative to the last edition of the transparency benchmark.
It is great that the Global Pension Transparency Benchmark is driving organisations globally to improve their transparency.
Canadian funds finished first among the countries reviewed, with all five Canadian funds finishing within the top 10 funds globally. The Dutch funds also deserve an honourable mention. Collectively, they provided the best disclosures on cost and responsible investing.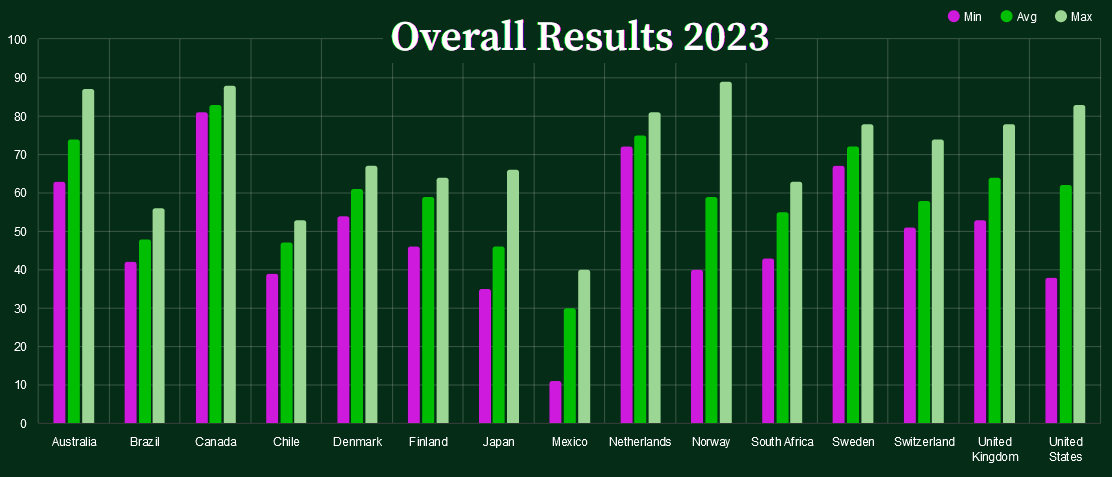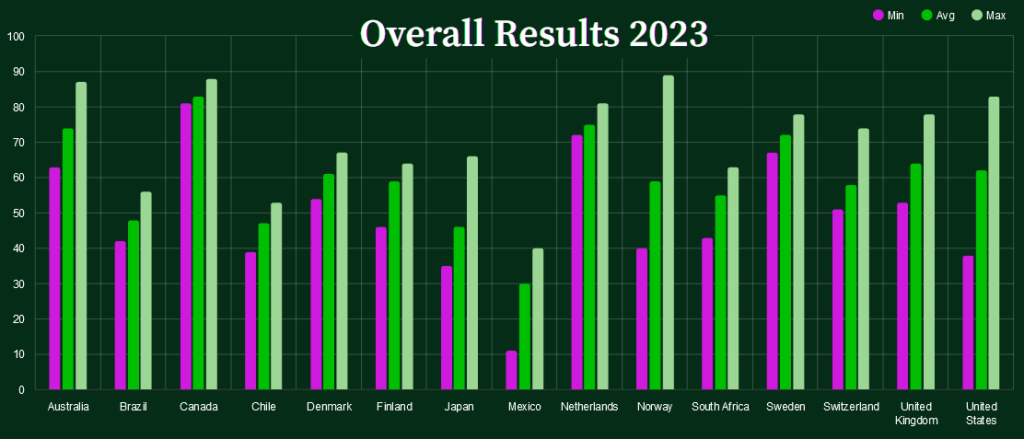 CPP Investments topped the list of the most transparent funds in the last two editions of this benchmark. This year, they were narrowly beat out by the Government Pension Fund Global of Norway, and now form a competitive top three with the first three funds separated by only one point each. Australian Super rounds out the top three.
In the last edition of the benchmark, transparency scores for individual funds were published for the first time. This created more discussion. This year, we wanted to provide funds with more transparency on the review process. The process itself continues to improve as the benchmark matures. This year, additional governance was introduced, highlighted by a new appeals process for funds to dispute results.
………………..
AUTHORS: Muhammad Hammad Asif, Umer Khan – S&P Global Market Intelligence analitycs