The UK's insurance sector is one of the world's largest, managing investments of £1.8 trillion and employing 300,000 individuals. The insurance sector however could be one of the most impacted by Brexit due to the level of regulation and interconnection between the UK and EU financial systems.
According to UK Home Insurance Consumer Report by Research & Markets, the first thing that a consumer looks at when choosing home insurance is price rather than what the insurance actually covers. Over 70% consider the price first.
Home Insurance in UK
According to survey, over the next 12 months, 20% say that they are definitely going to switch while another 43% say that they might switch (see TOP 10 Largest UK Car Insurance Companies).
Over half (53% overall) also prefer to take a home insurance policy from a well-known insurance brand even if there is a cheaper option from a less well-known brand.
A majority (57%) stayed with their current home insurance provider when their latest renewal came around. Just under a third (32%) switched provider when their last renewal came around.
The UK home insurance market is forecast to scrape a profit in 2022, as it reels from severe weather in Q1 – including the wettest month on record in February – before falling into unprofitable territory in 2021.
Industry disruptors are looking to take advantage of areas that have needed improvement (see UK Motor & Home Insurance Losses Forecast in 2023). Using big data can improve efficiency in underwriting, assessing risks and claims, customer retention and engagement, security, prevention of fraud, and improving the customer purchasing journey. UK was the fourth largest insurance market in the world, in 2021.
The United Kingdom also has the highest insurance penetration rate in Europe at over 14 percent, with approximately 41.6 million UK adults owning some form of general insurance. The main insurance types are building, content, and combined.
Competitive UK Home Insurance Landscape
According to Mordor Intelligence, the UK Home Insurance Market is highly competitive, with the presence of major international players. The UK Home Insurance Market presents opportunities for growth during the forecast period, which is expected to further drive market competition. With a few players holding a significant share, the UK Home Insurance Market has an observable level of consolidation (see Moody's downgrades outlook on the UK P&C insurance sector to negative).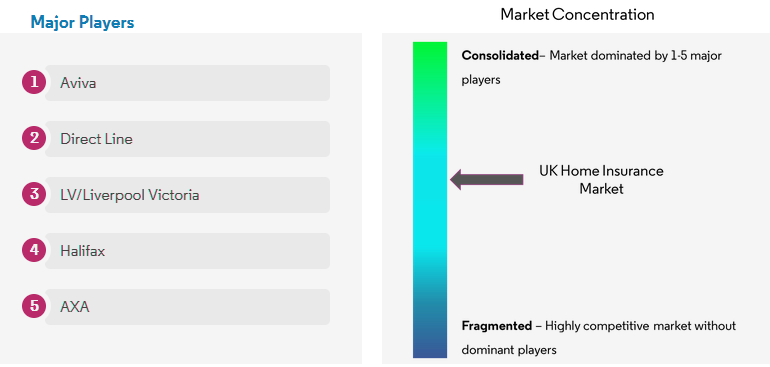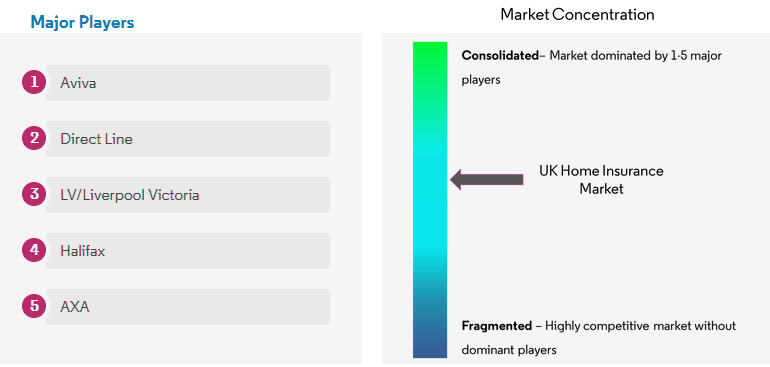 The UK's biggest home insurance brands
As home insurance brands have adapted their pricing strategies post GIPP – the FCA's pricing reforms that banned price walking – the winners and losers of market share are starting to change.
Top 10 UK Insurers by market share
| | | |
| --- | --- | --- |
| № | Insurers | Market share, % |
| 1 | Aviva | 8.3% |
| 2 | LV | 6.5% |
| 3 | Direct Line | 5.7% |
| 4 | Admiral | 5.2% |
| 5 | Saga | 4.7% |
| 6 | Policy Expert | 4.3% |
| 7 | Churchill | 4.2% |
| 8 | AXA | 4.0% |
| 9 | Halifax | 3.8% |
| 10 | Sainsburys | 3.3% |
Source: Mordor Intelligence
Retention is also at play, and playing into the hands of those with bigger back books. More customers renewed their insurance with their current provider in the latest period, with the market average retention rate rising from 63.2% to 66.9% in the last 12 months.
Top 10 UK Insurers by retention
| | | |
| --- | --- | --- |
| № | Insurers | Retention, % |
| 1 | NFU Mutual | 83.3% |
| 2 | Nationwide | 79.7% |
| 3 | Santander | 78.0% |
| 4 | Lloyds Bank | 77.9% |
| 5 | Sainsburys | 77.9% |
| 6 | Barclays | 76.6% |
| 7 | Admiral | 75.3% |
| 8 | Policy Expert | 73.9% |
| 9 | Aviva | 73.9% |
| 10 | LV | 73.0% |
Source: Mordor Intelligence
FCA's insurance reforms
The Home Insurance Market covers types of Insurance policies available in the current UK Insurance Scenario: Building/property Insurance, Contents Insurance, Buildings and Contents Insurance, Renter's or Tenant's Insurance, and Strata/ Holiday home Insurance along with the distribution channels operated in the industry. Furthermore, considering the growing online Insurance platforms in the country a detailed study presented on that separately.
The FCA's recent reforms, where insurers have to offer the same insurance price to existing customers as well as new customers, could temper some switching although many consumers may not know about this change.
To try and save some money in these inflationary times, there are 18% of those with just contents insurance that are considering saving money by cancelling their policies completely when the renewal date is imminent (see FCA wants to create an insurance 'risk pool' for some UK tower blocks).
Only 9% of policyholders have made a claim in the last year and another 10.5% have made a claim in the last two to five years.
Buying home insurance direct from the insurance company is still the route used by the largest group – 45% of respondents. Not that far behind are price comparison sites with 34% purchasing home insurance policies from these sites (see UK regulator is paying close attention to the concentration risk due to insurers).
The cost of home insurance may fall in 2022 as changing regulation, plus the ongoing pandemic, impacts on the cost of general insurance, causing significant downward pressure on premium rates across both personal and commercial lines. Homeowners across the UK have seen a 1.2% drop in average home insurance premiums thanks to a reduction in break-ins and water damage claims resulting from lockdown.
The new rules will require home insurance prices to be the same for both new customers and those renewing. Traditionally, discounts on new business have been funded by increased pricing on renewal. As a result, under the new regulations, those that already shop around may see price increases, whilst those that have remained with an insurer for a number of years may see price drops.
Collaboration between the insurance sector and technology
Fire detectors, secure systems, and water leakage detectors have been on the market and in people's homes for a while now, but the ability to connect all of them to a smartphone or tablet and manage them remotely has only been possible in recent years.
Collaboration between the insurance sector and technology companies on the smart home market could seriously lower the risk of claims being paid out, while delivering added value to the customer through enhanced feeling of security.
Some insurers have already embraced the opportunity by providing discounts if homes are equipped with certified locks or a burglar alarm. An alternative approach is offering smart home tech and insurance coverage as part of the insurance package. Overall, the leading 10 insurance brands in the United Kingdom made up two-thirds of the insurance sectors share of voice with comparison websites taking the largest share.
Customers favour simplicity; they want products that are easy to understand, purchase and use, they also want to be confident that they are paying a fair price, and to trust that claims will be paid fairly; with this insight, insurers can use a human-centred approach to redesign products and exceed customers' expectations
Purchasing household insurance policies online has become increasingly popular in the UK and is the most used channel by the policy seekers. Industry sources reported that currently, more than 40% of sales are happening through online platforms. Providers must have a strong online presence in order to ensure growth in the present market scenario.
The most common pre-purchase activity is visiting a price comparison website, highlighting the importance of price for customers. As a result, it is essential that both premium prices and the cover provided are extremely competitive.
Each year, over 90% of combined buildings and contents home insurance policyholders are existing policyholders and their choice comes down to either renewing with an existing provider or switching from one provider to another.
For contents only and building only insurance a greater proportion of policyholders embarking on a new customer journey each year are new market entrants – i.e., buying home insurance for the first time. Even if renewing, policyholders generally still embark on a new customer journey: over eight-in-ten of policyholders owning combined cover who renew still search for alternatives policies and/or negotiate for a revised deal from their provider before they agree to renew.
As insurers re-engineer their offerings to find renewed resilience and stability in the flux of global uncertainty, industry leaders have the opportunity to evolve legacy environments and redefine differentiated value. Despite new challenges that have emerged out of an increasingly complex and challenging competitive landscape, the insurance industry is presented with immense innovation potential.
……………………………
AUTHOR: Oleg Parashchak – CEO Finance Media & Editor-in-Chief at Beinsure Media