Telematics Insurance is also called usage-based insurance, pay-as-you-drive insurance or pay-per-mile insurance. The central idea is that you can get a discount on your car insurance if you are safer than the typical driver (or if you drive fewer miles than average each year).
Telematics-powered auto insurance is a form of policy in which insurance companies rely on in-car tracking devices to monitor your driving habits and tendencies.
These devices track your vehicle's speed, mileage, total driving time and other factors to help determine the policyholder's car insurance premiums. Usage-based insurance policies usually come with a mobile app to help you easily access real-time data relevant to your rate.
Insurance telematics is revamping auto insurance
Insurance telematics is revamping auto insurancee companies by effectively merging technology with finance and human behavior. It makes the entire system more transparent and increases driver safety.
Allied Market Research published a report that the global insurance telematics industry with $2.4 bn in 2020 would reach $13.8 at a CAGR (Compound Annual Growth Rate) of 19.5% by 2030.
Telematics relies on the data collected from the device in the vehicle. It could be the GPS tracker or any other device that gathers information. A consumer survey in 2019 showed that around 30 to 40% of users were comfortable sharing their location and driving data with insurers. This percentage rose to 50% in 2020.
Even though there isn't enough enrollment for insurance telematics, it won't be long before telematics is a prominent way to personalize insurance coverage and lower premiums.
Insurance companies have traditionally calculated premiums based on the make, model, age of the car, and other such factors. The premium rates for cars of the same brand and model were similar. That sounded good, but the premium price didn't factor in the most important aspect.
​​​​​​​​​​Insurance telematics (UBI or PAYD) represents a shift in how insurance is administered and how premiums are calculated. Telematics has the potential to reduce your premium costs and generate significant benefits to society.​
Back then, it would have been almost impossible to collect, process, and evaluate the driver's driving behavior without technology. Telematics was still in use, but not on a large scale required by the insurance companies to identify and segregate low-risk and high-risk drivers based on their on-road behavior.
What is Telematics?
Telematics is an automotive communication IoT-technology that uses a combination of tools and apps to capture the vehicle's information and share it with the insurers. Telematics uses GPS, Wi-Fi/ Bluetooth, GSM, RF, Engine Control Unit, and cloud servers to collect, store, process, and analyze data.
What is Telematics Insurance?
Telematics insurance is a policy where your insurance company monitors how you drive and adjusts your costs based on your driving habits. There are several types of telematics policies, including:
Telematics box, also known as black box
Plug-and-drive
Pay per mile
Telematics app
The most popular type of telematics insurance is a telematics box, which is a small device that's installed in your car. The device uses GPS to relay data about your driving to your insurance company. Your insurance company can then judge how safe your driving is and give you a driving score.
Your driving score reflects how safe a driver your insurance company believes you are, usually ranging from 0 to 100. The higher the score, the safer you're thought to be and the more you could save on your insurance costs. Most insurers let you track your scores and let you send feedback through a custom driving dashboard.
Telematics insurance just changes how you are charged for coverage. You still have all the regular auto insurance policy options available, including:
Liability car insurance
Collision insurance
Comprehensive insurance
Medical payments (MedPay)
Personal injury protection (PIP)
Underinsured/uninsured motorist coverage
No matter the type of telematics program, insurers track policyholders' driving behavior in real time.
They can do this through different devices, such as:
Mobile apps
Diagnostic port plug-in devices
Bluetooth beacons
Depending on the provider, you might be able to transmit driving data through a built-in option like OnStar as well.
In some cases, you can pick the telematics technology that you would like to use. Keep in mind that different devices can track different things. For example, a smartphone app can track your phone use while driving, but a plug-in device cannot.
Role of Telematics in the Auto Insurance
Auto insurance is a must in every state/ region. Being uninsured is not a choice if people want to drive their cars, trucks, and vehicles. The ultimate aim of every car owner/ driver is to find the cheapest auto insurance. Affordable, low cost, cheap, lower premium price, etc., are the keywords used when searching for an insurance company or an insurance agent.
Telematics helps lower premiums for safe or low-risk drivers. While it can lead to a higher premium for those who have been in more accidents, telematics can also nudge them to be more careful and become better drivers. After all, a better driver gets a cheaper insurance premium.
Cons of telematics in autoinsurance:
Drivers with long commutes may not enjoy the benefit of lower rates from usage-based insurance.
If your schedule requires you to drive at night, you could face higher-than-expected insurance rates.
Different Types of Telematics Insurance
While a telematics box is the most popular type of telematics insurance, there are other ways insurance companies can monitor your driving.
Some insurance companies also offer:
Plug-and-drive insurance
Pay per mile insurance
Telematics app
● Plug-and-drive
Plug-and-drive is similar to a telematics box policy but you can install the device in your car yourself. Your insurer mails you a device that you plug into your 12v power socket, also known as the cigarette lighter. The device record your speed, braking and cornering.
● Pay-per-mile
Pay per mile policies mean your insurer adjusts the price of your insurance based on how far you drive. The less you drive, the cheaper your insurance could be. You're charged a set amount to cover your car while it's parked, and then a small monthly cost for every mile driven. A small device or mobile app is used to measure your distance.
Whether or not you have good driving skills, one of the most important factors in determining your accident risk is how often you are on the road. With pay-per-mile programs, your bill reflects the number of miles you drive.
● Telematics app
Telematics app policies mean your insurer can record how you drive using an app on your phone. The app uses GPS to monitor your speed, acceleration and distance.
Telematics led to a new way of calculating premiums and liability
Termed Usage-Based Insurance, auto insurers determine the premiums in four ways:
● Pay As You Drive Insurance (PAYD)
PAYD is a comprehensive insurance plan that allows drivers to customize the policy based on their requirements. In simple terms, those who use the vehicle more pay more and vice versa.
● Pay How You Drive Insurance (PHYD)
PHYD is an auto insurance plan where the driver's behavior and history are used to determine the premium money. Good drivers can get low-cost vehicle insurance from the cheapest provider in the market.
● Distance-Based Insurance
The insurance coverage is calculated for the number of miles you travel during the insurance period. Take an average of the miles driven and the number of years/ months you owned the vehicle.
● Control Your Drive Insurance (CYD)
Like the previous three vehicle insurance plans, CYD also allows users to decide the premium price based on their driving and requirements.
Advantages of Telematics in Car Insurance
Telematics helps the insurance companies reduce the liability of paying for multiple claims while also giving drivers a concrete chance to bargain for personalized and affordable car insurance.
It streamlines the entire process of getting insurance and increases transparency. There will be less friction and miscommunication between the insurer and the insured.
Insurers can improve their customer servicing abilities by accessing historical and latest data about the vehicle and the driver.
Drivers who don't have a speeding ticket or haven't suffered any bodily injury due to a driving accident or collision can take advantage of their driving history to reduce premium payment.
As more people become aware of telematics, they'll start to be responsible when driving. This will decrease accidents, traffic jams, and road rage incidents.
Non-driving factors such as credit ratings, the vehicle's manufacturer, etc., will not be given too much importance when calculating the premium.
Telematics box installation: how does it work?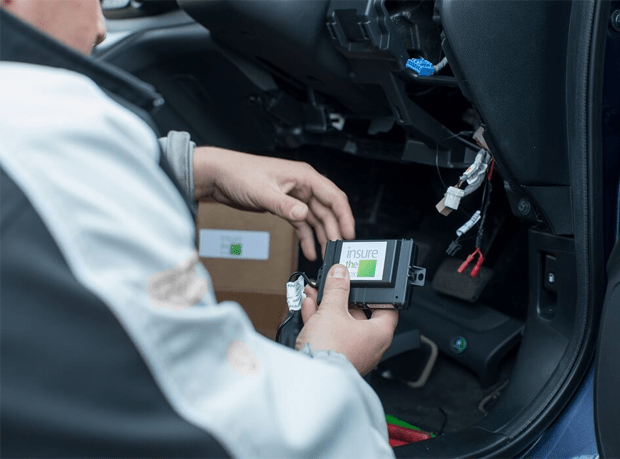 Your insurer instals a telematics box for you – it typically takes about an hour.
The box is most frequently fitted beneath the dashboard or the bonnet. This depends on the provider's particular device, and the car itself.
While your telematics box can actually go anywhere, insurers tend to put them out of sight. It's best not to tamper with the device, especially as this defeats the object of getting one. The GPS technology that telematics boxes use makes the car easy to find if it's stolen, so you wouldn't want a thief to try and remove it.
The cost of installation is usually covered by the insurer.
What data will telematics collect?
Your telematics box uses GPS technology to collect data on your driving. The focus of the data is generally on your speed, acceleration, braking and what time you drive. Your driving behaviour is monitored across a variety of journeys to give you an average driving score.
Your insurer also uses the data to give you personalised tips on how to improve your driving.
Telematics boxes capture data on:
Maximum and average speed
Acceleration
Braking
Cornering
Mileage
Number of journeys
Journey time
Road type
Impact detection
How to Save Money With Telematics Insurance
The price of your insurance may fall simply because you agree to have a telematics device in your car. But your driving score determines what happens to insurance prices going forward. If you're more careful than the average driver and get a good driving score, then you could pay less. However, if you get lower driving scores than average, you could find yourself paying more for your insurance. Be prepared, you should drive carefully on a consistent, long-term basis.
But remember, there are no guarantees. If you don't get good driving scores and don't learn from the personalised tips and analysis, then a standard insurance policy could suit you better.
Some car insurance companies advertise that drivers can save up to 25%, 30% or even 40% on their premiums for being a safe driver with a telematics program. But, are those numbers realistic?
To get the best discount, you generally must:
Avoid rush-hour and nighttime driving
Have below-average mileage
Avoid harsh braking and cornering
Avoid quick acceleration
Drivers who see the best discounts may include stay-at-home parents, remote workers, retirees and gentle drivers.
Not everyone saves money with telematics insurance programs, however. Even if you are a good driver, you may not see a discount if you commute to work every day and drive an average number of miles.
Similarly, if you regularly drive late at night, you might not see much of a discount, either.
It's also easy to be categorized as a "bad driver" according to telematics programs. If you tend to accelerate quickly after stopping, slam on your brakes at red lights or on the interstate, and make midnight snack runs, you probably won't find a great discount.
Who is telematics for?
As telematics policies can significantly reduce the cost of car insurance, it could be a great way to save for those people viewed as higher risk by insurance companies:
Young drivers are suited to telematics insurance. As drivers aged 17-24 are inexperienced, they're viewed by insurance companies as higher risk. Telematics policies are a great way for young drivers to save on their insurance while they gain driving experience.
Inexperienced drivers can also make the most of telematics policies. Drivers who've recently passed their test tend to pay more for their car insurance. Proving you're a responsible driver by getting good driving scores could save you plenty on your car insurance.
There's no upper age limit or restriction on telematics policies, so older less experienced drivers might also benefit from a policy.
How Does Telematics Insurance Work?
Telematics car insurance programs collect data to rate your driving safety and/or track your mileage. The programs collect data related to how you drive, when you drive and where you drive to calculate your risk level. If you pose a lower risk of accident than the average driver, you can save money on your auto insurance premiums.
When you sign up for a telematics program, you'll usually get an enrollment discount, which may be 5 to 10%. You will either download an app or receive a telematics device in the mail. During the first policy period, the company will collect information on your driving habits.
When it's time to renew your policy, you'll see whether you qualify for a discount based on your driving habits and how steep your discount will be. Some programs require you to keep the tracking device installed at all times to maintain a discount. Others track your driving habits for one policy period and apply the discount to all future periods.
Generally speaking, there are two main types of usage-based or telematics car insurance programs: safe driving programs and pay-per-mile programs.
……………………………
AUTHOR: Oleg Parashchak – CEO Finance Media & Editor-in-Chief at Beinsure Media