Flood is no longer an "untouchable" risk for private insurers. In fact, data suggests insurers see it as a growing area of opportunity. That's good news for homeowners who understand the evolving nature of the peril, according to the Insurance Information Institute review Flood: State of the Risk.
For decades, FEMA's National Flood Insurance Program (NFIP) was practically the only available option for homeowners to obtain flood coverage.
National Flood Insurance Program had paid $2.2 bn in claims for Hurricane Ian an increase of almost 28%
Floods affect more people across the globe than any other natural disaster. The deadly floods within 2022 year were a tragic reminder of the increasing threat posed by extreme weather events as the climate crisis deepens.
According to Swiss Re Institute, the financial damage caused in vast areas of Queensland and New South Wales could be extensive.
Insurers are now processing thousands of claims from their policyholders, and the costs underscore the challenges the industry faces from increasingly severe – and frequent – floods around the world. While we categorise flooding as a secondary peril, this doesn't mean the impact is minimal.
US Federal Emergency Management Agency (FEMA) has now provided $896 million to households impacted by Ian, and $504 million to the State of Florida for emergency response to the storm.
Insurers are experts in assessing primary perils. The industry has developed robust exposure data, risk modelling and risk management practices for these perils, most notably hurricanes, earthquakes and windstorms.
Flood insurance coverage
Improved data, analysis, and modeling have helped drive increased private-sector interest in flood-risk transfer and mitigation.
Over the past decade, 83% of global economic losses from flooding were uninsured, according to Swiss Re. Closing insurance flood protection gap must be a priority for the industry
In 2016, only 12.6% of flood coverage was written by 18 insurers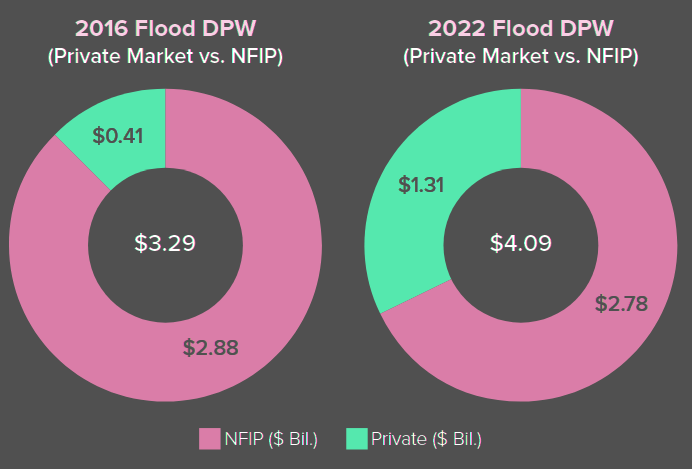 As the federally backed National Flood Insurance Program (NFIP) faces obstacles in the rollout of its new rating program that is generating premium increases for many of its policyholders, the private flood insurance market has benefited by significantly growing its market share across the U.S.
As private flood insurance accounts for over 40% of California's entire flood market—a significantly larger share than in the other leading states—the ongoing flooding issues in the state will present a good test for the private flood insurance market
The U.S. flood insurance market had grown 24% – from $3.3 bn in direct premiums written to $4.1 bn between 2016 and 2023 – with 77 private companies writing 32.1% of the flood business across the country.
Today's challenge is to get homeowners and communities to understand the need to insure against flood and how mitigating the risk can help make the coverage more affordable.
Number of private insurers writing flood coverage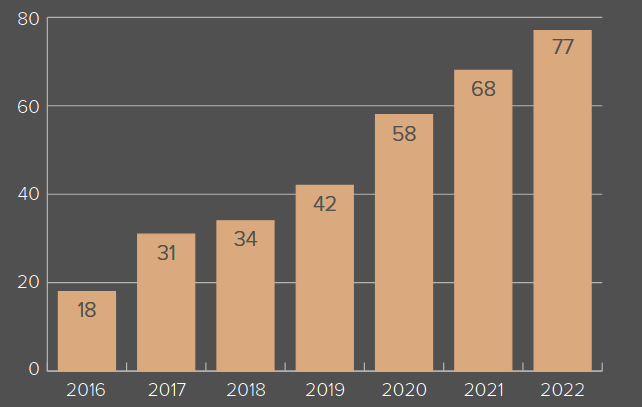 The timing of the private market's increasing appetite for flood risk is fortuitous, as it coincides with Risk Rating 2.0, NFIP's new pricing methodology that aims to make the government agency's flood insurance premium rates more actuarially sound and equitable by better aligning them with individual properties' flood risk.
As NFIP rates become more aligned with principles of risk-based pricing, some policyholders' prices are expected to fall, while many are going to rise.
It is reasonable to expect that, as the cost of participating in the government-run flood insurance program rises for some, private insurers will recognize the market opportunity and respond by applying cutting-edge data and analytics capabilities, more refined pricing techniques, and new products, such as parametric insurance, to seize those opportunities.
Top 10 Private Flood Insurers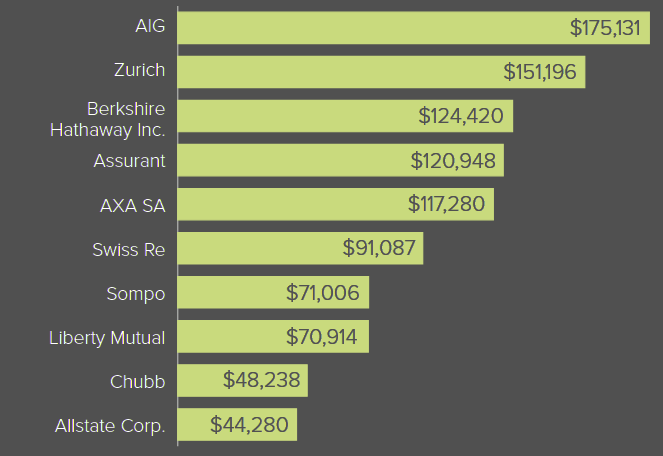 It also is incumbent upon communities to explore innovative approaches like community-based disaster insurance programs. The series of storms has been transported by an "atmospheric river," a relatively narrow, windy region of the Earth's atmosphere that can transport moisture for miles, like a river on land does water (see about Role for Re/Insurers in Building Flood Resilience).
Insurance Consumer understanding is key
Increasing private-sector competition can only increase the opportunities to obtain affordable coverage, according to Triple-I survey.
A relative lack of consumer demand compared to other property insurance offerings still gives carriers hesitation when trying to evaluate whether they should invest in launching their own private flood programs.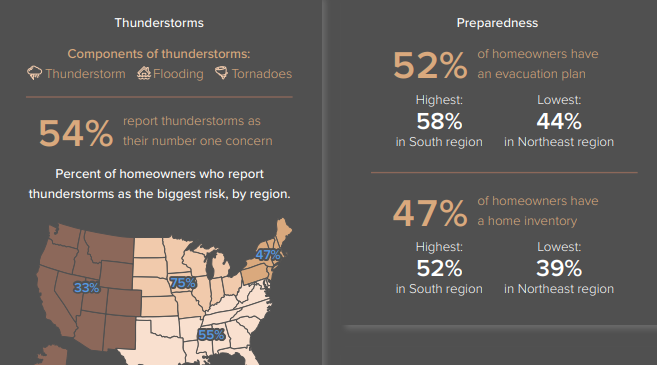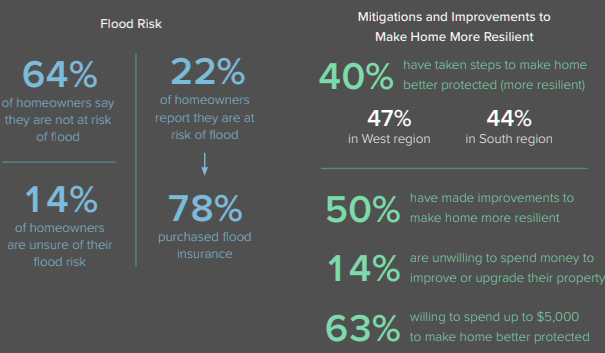 64% of homeowners and renters surveyed responded that their residences were not at risk from flood, and another 14% were unsure of their flood risk.
Proportionally few homeowners buy flood insurance unless their mortgage lender requires it, and surveys have shown that many people incorrectly believe their standard homeowners policies cover flood damage.
Even within the federal flood insurance program, opportunities exist to get lower rates. FEMA's Community Rating System (CRS) is a voluntary incentive program that encourages community floodplain management practices that exceed NFIP's minimum requirements.
In CRS communities, flood insurance premium rates are discounted to reflect the reduced flood risk resulting from community efforts that address the program's three goals:
Reduce and avoid flood damage to insurable property;
Strengthen and support the insurance aspects of NFIP; and
Foster comprehensive floodplain management.
Perceptions Shift with Experience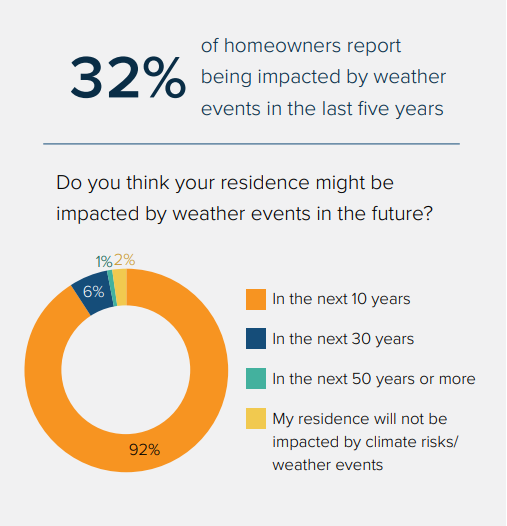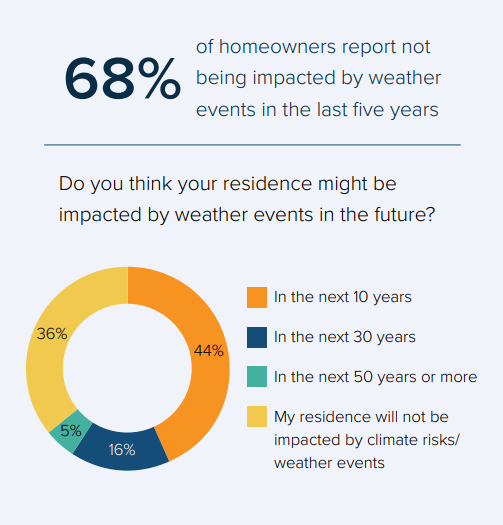 Over 1,500 communities participate in the program nationwide, but only Tulsa, Oklahoma, and Roseville, California, have taken sufficient actions to achieve Class-1 status and have their citizens receive the greatest flood insurance premium discount. Both of these communities previously experienced disastrous flooding.
Flood risk and insurance
Education and protection from flood risk is vital to homeowners across the country. Homeowners were asked in this research if their property is at risk for flooding. Sixty-four percent responded that their residences were not at risk, and another 14% were unsure of their flood risk. However, anywhere it can rain, it can flood – so almost everyone can be at risk.
Most people do not realize the risk and power associated with flood waters. According to the National Weather Service, flood waters result in more deaths than any other weather peril.
Furthermore, unlike other weather risks, flooding is not covered by homeowner's insurance. Flood coverage needs to be added to or endorsed onto the homeowner's policy.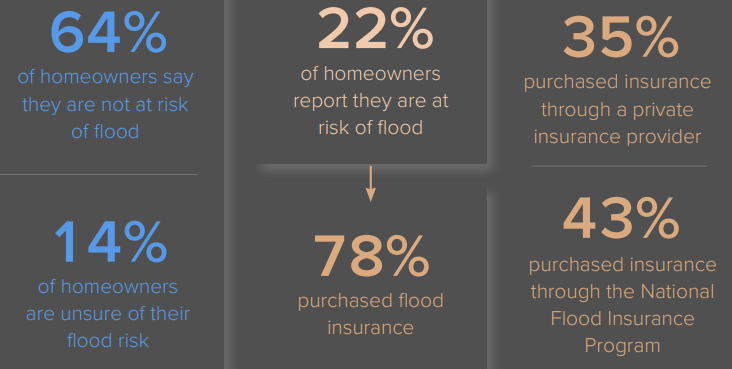 Homeowners have the option to purchase NFIP (National Flood Insurance Program) coverage or buy coverage from private insurers.
Raising awareness of flood risks could result in increased purchasing of flood insurance in many areas that are at risk, since flood events have become more frequent. Of those who perceive they are at risk of flooding, 78% have purchased flood insurance. This survey result indicates informed consumers are more likely to purchase flood coverage.

Within the 78% who have purchased flood insurance, 43% have purchased through the National Flood Insurance Program (NFIP) and an additional 35% have purchased private flood insurance. Homeowners are encouraged to determine the flood risk of their residence.
……………………..