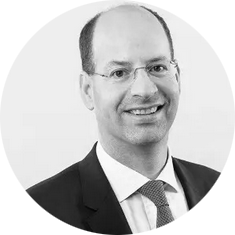 Jérôme Haegeli – Swiss Re Group Chief Economist
As Group Chief Economist for Swiss Re, Jérôme is responsible for the economic and insurance market research. He is also the managing editor for the sigma series, Swiss Re's flagship research series.
Jérôme leads the global research teams located in Zurich, New York, Bangalore, Beijing and Hong Kong and provides macro and insurance industry research and associated consulting services for the Group. He steers the scenario analysis, provides the macro and insurance industry analysis and forecasts, while contributing to a sound global financial market architecture and making the world more resilient.
Jérôme served as Co-Chair of the World Bank's Global Infrastructure Facility (GIF) Advisory Council. He is particularly active in external committees at the Institute of International Finance and the WEF and participates in roundtable discussions with policymakers; this to strengthen the positive dual role of the insurance sector as a long-term investor and risk absorber. Jérôme is a Board member of Global Asia Insurance Partnership (GAIP) in Singapore and the International Capital Market Association (ICMA). He also serves as Director of the Board at the China Asia-Pacific Reinsurance Research Center (CAPRRC).
Previously at Swiss Re, Jérôme was Head of Investment Strategy at its proprietary Group Asset Management for nearly ten years. Prior to joining Swiss Re, he was Swiss National Bank's Delegate at the Executive Board of the International Monetary Fund in Washington DC and Senior Economist at the Swiss National Bank, UBS Warburg and Bank Julius Baer.
Jérôme holds a PhD in Economics from the University of Basel, an MSc in Economics from the London School of Economics and was a Visiting Fellow at Harvard University's Economic Department.