Forced virtualization of work during the pandemic has fueled revolutionary changes in employee expectations and upended many traditional employment models. Flexibility, quality and relevance of work, career path, financial wellness, and inclusion now appear to dominate many employees' aspirations and are increasingly being used as parameters of job entry, longevity, and exit from an organization.
This is not unique to the insurance industry, but in conjunction with an aging workforce and conservative reputation, the challenges are exacerbated for insurers competing for skilled talent not just with peers but with other, more cutting-edge industries.
Shift in thinking and culture may help attract and retain talent
Carriers may struggle to fill and retain their workforce through 2023 unless there are some novel changes implemented to underlying culture that help these organizations to potentially be simply irresistible.
Change in employee expectations has pushed the "good to have" parameters to the "we need it all" bucket
While lockdowns gave rise to the work-from-home phenomenon and insurers reacted accordingly, the situation has reached an inflection point where organizations will likely need to proactively decide which elements of workforce strategies to keep, change, and discard.
Culture shifts could create a potentially irresistible work experience

Many carriers are still in the testing and learning stage, dissecting the nuances of each function to gauge where it may fit in a scenario, as well as understanding where individual employees would like to reside on the future-of-work (FOW) spectrum.
This will potentially be less of a one-and-done strategy and more of an ongoing journey.
Insurers are trying to find the optimal balance considering the different future-of-work scenarios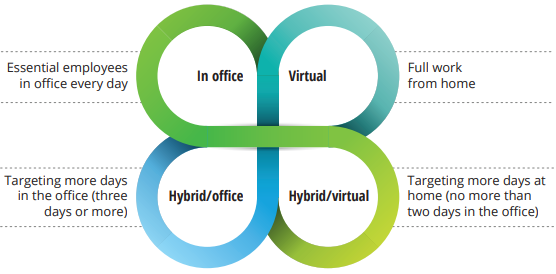 As leaders, we know how critical the role of mentoring/coaching is when developing others. And to be a great mentor/coach, it requires trust and relationship, which is often best built with our colleagues in person. At the same time, the pandemic has proven to us that many tasks/work is more productive while remote.

Brigid Pelino, senior VP & chief human resources officer, Definity
The challenge and therefore opportunity for leaders is to deeply understand the work as well as what makes their employees most productive and design a hybrid approach accordingly.
As evolving workforce concepts shift from theoretical to practical, arming leadership and management with the tools to prepare employees for change will potentially require shifts in culture throughout the organization. Asking people to come back in person just for the sake of being in the office might no longer be feasible from an attraction and retention lens, so communicating the benefits of in-person collaboration, problem-solving, and team building will be important.
With prospective talent at a premium and workplace boundaries fading, insurers will likely need to pivot in the way they think about sourcing and attracting new employees.
For functions that could accommodate virtual interaction, insurers could leverage the entire global stage to uncover valuable skill sets and at the same time create a more diverse workforce.
Returning to the workforce
Stay-at-home parents returning to the workforce, retirees, gig workers, and neurodiverse candidates represent some of the untapped labor pools not traditionally targeted. Zurich UK initiated a part-time jobs initiative to access a whole new pool of talent, driving the application numbers up by more than two-thirds since the initiative was launched, benefiting working parents, caregivers, and those with portfolio careers or other interests they want to pursue.
Companies will need to prepare leaders to lead in this new environment because a lot of people have had very traditional career paths and may not understand the changing needs and expectations of their employees. So, I think we need to set our leaders up for success.

Sonia Boyle, chief people officer, Gore Mutual Insurance
Moreover, reevaluating current job descriptions instead of remaining fixated on narrower industry-specific qualifications could open new talent channels through broader skills-based hiring. Numerous flight attendants laid off during the pandemic found new careers in Hong Kong SAR's booming insurance industry as several large insurers hired them because of their hospitality training and experience in dealing face-to-face with customers.
Insurance corporate culture
Carriers' culture may need to be modified to be able to absorb those coming in from outside the industry. This may be even more challenging in the virtual environment many will reside in. It will potentially require novel approaches to onboarding, mentorship, and training to help new hires feel like they are part of the company and not just the job.
While expanding the aperture for skills recruiting could be a net positive for insurers, fading borders across industries could make retention and attrition the larger pain point throughout the industry.
We have a long-term view on employment—invest in hiring fresh out of college talent and train them on the job so that they can grow within the organization. With a shrinking younger population, tiny adjustments to working hours and flexible schedules can help with pursuit of women, retirees, freelancers, and other such diverse groups.

Jana Fallon, VP staffing and executive assessment, Prudential Japan
Focusing on understanding and investing in the evolving demands of their current workforce is important for organizations. A recent employee survey done at Lincoln Financial Group revealed that most employees surveyed continue to want to invest in their career development.
However, many said they find it challenging to carve out time to focus on their development when faced with ongoing home and work priorities. Lincoln focuses on making learning opportunities easily accessible and ensuring that employees have time in their workdays to invest in themselves and their career.
Organizations could also rethink the employee experience after the skills are obtained, including transparent career pathways and recognition models to match the level and competition for in-demand skills.
One of the key investments, especially in a hybrid work environment, was in recognition— driven by feedback from employees who wanted acknowledgment and celebration of those moments that matter.

Jen Warne, executive vice president, chief people officer, Lincoln Financial Group
Most employees also want to be connected to an organization that evokes meaning and pride for them. Gore Mutual Insurance launched a purpose framework earlier this year around three pillars that underscore the organization's focus, "be good, do good, and spread good," embracing wellness and diversity and inclusion, excellent customer experience, and community investment and ESG, respectively.
Given blurring boundaries across regions and industries, evolving employee expectations, and rapid digitalization to support all work environments, the talent conversation going forward will likely be about shifting mindsets and company culture, not only to be able to attract and absorb new talent and skill sets, but to retain employees by offering an irresistible work environment for satisfying long-term careers.
…………………….
AUTHORS: Karl Hersch – US Insurance leader, Principal Deloitte Consulting, Neal Baumann – Global Financial Services Industry leader, Principal Deloitte Consulting, Michelle Canaan – manager Deloitte Center, Sam Friedman – senior manager, insurance research leader Deloitte Center.