IMCA predict over $800bn will be allocated to new developments and re/insurance cover by 2030, but major challenges must be tackled if this expenditure is to succeed. These risks impact both the physical structures and the capital returns needed to reach a more sustainable energy future.
The World Energy Council, Swiss Re and Marsh&McLennan report of the financing resilient energy infrastructure summarises three comprehensive studies focusing on key risks the global energy sector needs to manage: extreme weather, energy-water-food dependencies and cyber crime.
Re/insurance supports financial resilience by acting as a shock absorber and promoting growth through its core businesses.
This is particularly important in a challenging and volatile macroeconomic environment, according to Swiss Re.
As long-term investors, re/insurers could play a pivotal role in bridging the emerging infrastructure financing gap, which, in turn, would contribute to a healthier economic environment. But for that to happen, the right framework needs to be put in place.
Hurricanes' impact for global energy infrastructure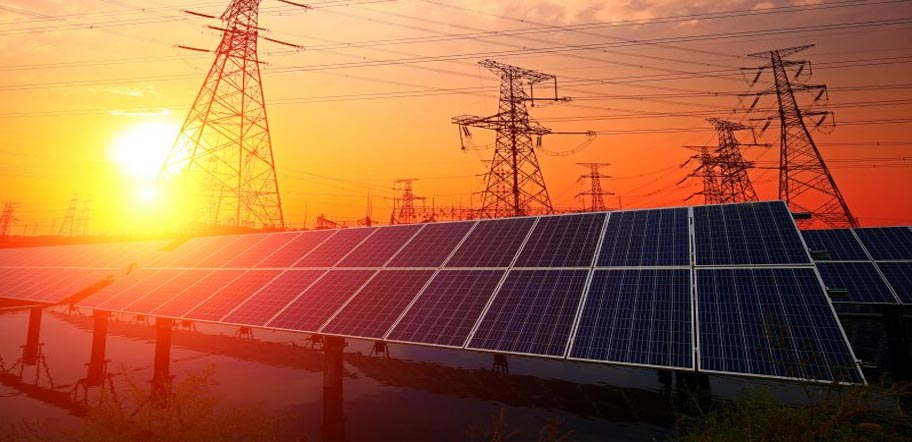 Events such as hurricanes, storm surges, heat waves and ice storms are growing in frequency and severity (see Global Natural Disasters Figures).
Hurricane Sandy or Typhoon Haiyan for example illustrated that energy infrastructure is often entirely inadequate to handle disruptions of such magnitude.
Insured losses from severe convective storms have increased by more than 40% over the last 20 years.
In North America when Hurricane Sandy hit Manhattan the lights stayed out for more than three days. In early 2015 in Chile the country experienced the equivalent of 7 years of rain in 12 hours leaving thousand s without electricity. And in the Philippines, the cost of recovery from the 2013 typhoon was estimated at more than double the GDP of the country.
With a shift in the frequency and severity of extreme weather events, new approaches are required for the management and financing of energy infrastructures as companies and governments seek to meet the challenges of increased extreme weather risks and secure a sustainable energy future.
Insurance claims in critical infrastructure
According to IMCA Group, the demand for new critical infrastructure to be installed is huge and subsea cables are central to meeting this, with hundreds of miles of export and inter-array cables required.
With an estimated 80% of all insurance claims in offshore wind relating to cable failures, much more will need to be done in this space.
Standardisation of infrastructure investments would be an important step forward, while infrastructure debt as a tradable asset class would certainly make infrastructure more attractive for long-term investors.
Energy infrastructure is vulnerable to cyber attacks
Food-water-energy nexus 98% of the world's power supply depends on water. Food production, in turn, requires both water and energy. In other words, the foodwater-energy nexus can significantly impact energy supplies.
Energy technologies and water stress: a world of increasing risks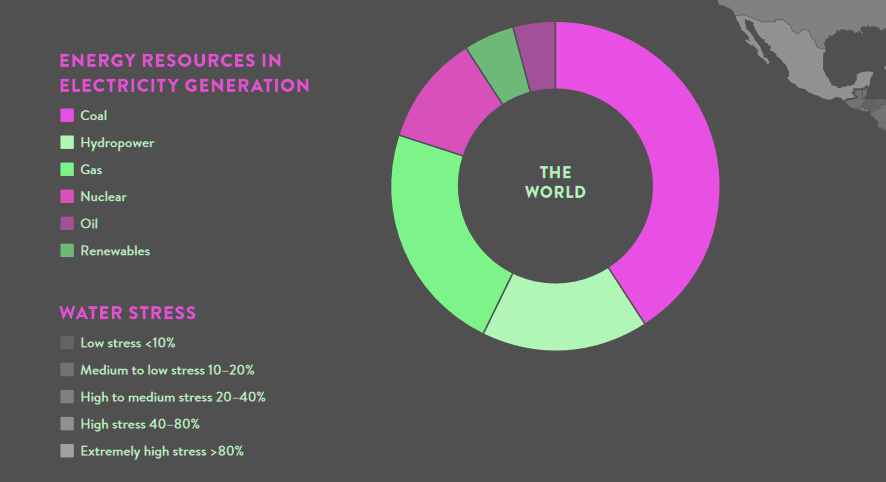 The energy-water-food nexus is the term used to describe the interdependencies, and sometimes competing demands, between water usage and the production of energy and food – an issue that triggers economic and social challenges among numerous stakeholders.
Increased resilience would add to the International Energy Agency's estimate of $48–53 trillion in cumulative global investments needed in energy infrastructure by 2035.
Technologies to make energy infrastructure more resilient to the risks posed by the energy-water-food nexus often increase the cost of development.
The scale of financing required is therefore significant and the private sector will have a crucial role in meeting this challenge.
Creating systemic resilience
The energy sector is highly vulnerable to cyber attacks. As Ukraine experienced recently, an attack on a power grid can cut off a whole country's power.
Modern energy infrastructures are evolving into complex systems with many interdependent parts, and disruptions to any of these can have truly dramatic consequences.
The summary report offers seven recommended action items for governments, business leaders and the finance sector to improve the financing of resilient energy infrastructure.
Extreme weather risks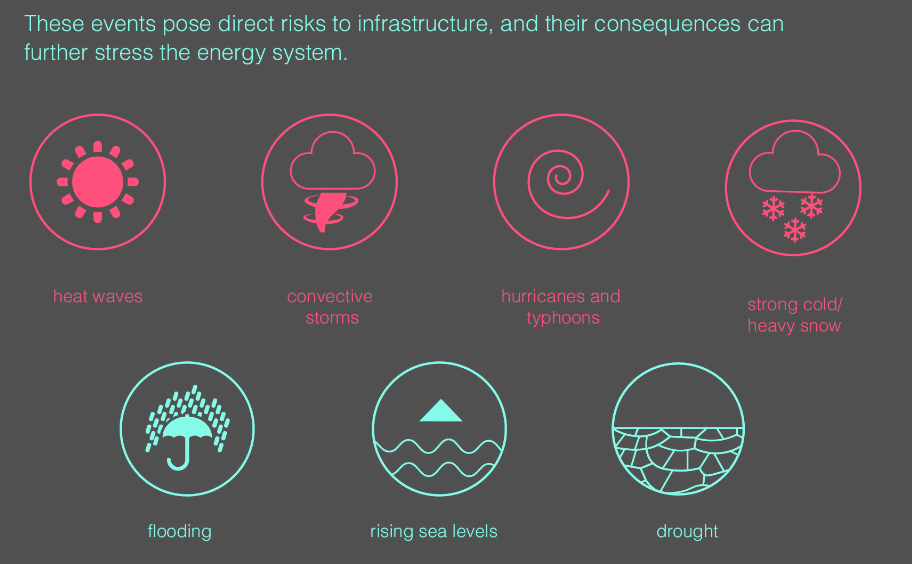 The authors emphasise the role of insurance in achieving resilience. The insurance industry is already helping energy companies cope with the risks identified in the studies.
Pioneering insurance transactions illustrate that protection against unfavourable weather is available for wind, solar and hydroelectric facilities.
Advanced cyber solutions combine comprehensive insurance protection with risk mitigation and remediation services.
World Energy Council
The World Energy Council is the principal impartial network of energy leaders and practitioners promoting an affordable, stable and environmentally sensitive energy system for the greatest benefit of all.
Formed in 1923, the Council is the UN-accredited global energy body, representing the entire energy spectrum, with over 3,000 member organisations in over 90 countries, drawn from governments, private and state corporations, academia, NGOs and energy stakeholders.
WEC inform global, regional and national energy strategies by hosting high-level events including the World Energy Congress and publishing authoritative studies, and work through our extensive member network to facilitate the world's energy policy dialogue
IMCA
International Marine Contractors Association (IMCA), a leading trade association representing the vast majority of contractors and the associated supply chain in the offshore marine construction industry worldwide.
IMCA is fully engaged in the energy transition for a sustainable and low carbon future. IMCA Members play a key role in the offshore oil & gas and renewable energy industries.
Principally, this is through the engineering, procurement, construction, and installation of offshore wind farms and hydrocarbon production facilities, together with the ongoing life of field support and maintenance requirements of these assets.
IMCA was formed in 1995 through the merger of the Association of Offshore Diving Contractors (AODC) established in 1972, and the Dynamically Positioned Vessel Owners Association (DPVOA) established in 1989. Consequently, operational roots and technical credentials are second to none in our industry.
Swiss Re
Swiss Re is one of the world's leading providers of reinsurance, insurance and other forms of insurance-based risk transfer.
Today 75% of risks – from natural catastrophes and climate change, to ageing populations and cybercrime – remain uninsured.
Headquartered in Zurich, Switzerland, where it was founded in 1863, the Swiss Re Group operates through a network of around 80 offices globally. 14,400 employees provide a wide range of technical expertise, enabling us to develop unique solutions and drive growth.