The transaction value of private equity and venture capital deals in Japan plunged in the first half year over year, while the volume of deals remained roughly the same, according to S&P Global Market Intelligence data.
Private equity was involved in 35 transactions during the first half, with a total disclosed transaction value of $180 million.
In the comparable 2022 period, there were 34 announced deals, including whole company, minority stake and asset acquisitions, with a total disclosed transaction value of $10.15 billion (see Global Private Equity Investments in Insurance Underwriters Review).
The decline in transaction value could be due to the absence of take-private transactions, which tend to be larger deals and where competing bids could further drive up value (see Private Equity & Venture Capital Investment in FinTech).
Transaction value was driven by super-large projects such as the delisting of a listed company, but I understand that it decreased because there were no such projects in the first half of 2023

Tomoki Miyamori, head of the private equity department at Nihon M&A Center
All 2023 first-half private equity deals targeted unlisted companies. During the comparable period in 2022, transactions included KKR's $6.04 billion privatization of Hitachi Transport System, which closed in November 2022.
PE & VC-backed M&A deals activity in Japan
This was Japan's second-largest private equity deal in 2022 after the pending $14.86 billion acquisition of Tokyo Stock Exchange-listed conglomerate Toshiba by an investor group including Japan Industrial Partners (see Value of Global Private Equity Deals with Sovereign Wealth Fund).
Transactions targeting small private Japanese companies are expected to increase
The number of funds investing in companies with an EBITDA of less than ¥500 million is increasing.
Approximately 700,000 companies are considering selling due to the lack of successors to the founders, so the number of funds that invest in small companies is increasing in order to take over.
Topping the list of the largest private equity transactions in Japan in 2023 was KKR's deal to acquire an additional 20% stake in food retailer Seiyu GK for $163.7 million.
Natural catastrophe-related losses will continue to be the largest risk to Japanese nonlife insurers' earnings in fiscal year 2023, though the effects of inflation are catching up. The three major domestic nonlife insurance groups in Japan — Tokio Marine Holdings, MS&AD Insurance Group Holdings and Sompo Holdings — are forecast to record lower year-over-year earnings for fiscal 2022 following a weak performance through the fiscal year's first nine months.
Largest M&A deals in Japan

In second place was SHIFT Growth Capital Inc.'s acquisition of software company CREIT Solutions for $13 million.
M&A Fundraising front in Japan
For the year through June 30, four private equity and venture capital funds launched that included Japan as geographic focus.
The funds have a combined maximum target fund size of $1.41 billion, close to half the targeted size of the 22 funds that launched in full year 2022.
PE/VC Funds launched in Japan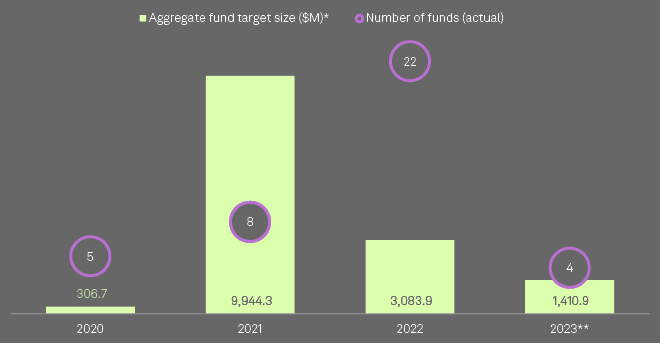 The largest of the new vehicles is Marunouchi Capital Inc.'s Marunouchi Capital Fund 3, which launched in March. A first close in April raised $301 million.
The buyout fund counts Mitsubishi Corp. as a limited partner, and its primary geographic focus is Asia.
Total private equity deal value in Japan
Total private equity deal value has already reached $20.7 billion in Japan this year so far as the Asian economy shows definite signs of lifting off after a number of "false dawns" over recent decades, according to Preqin Research. The report chimes with positive noises from other quarters about the country.
The $15 billion-plus take-private of Toshiba by Japan Industrial Partners, announced in March, will be the largest of its kind in Japan's history.
A buyout of the multinational conglomerate has long been on the cards, with Bain Capital in the frame just over a year ago.
Although the OECD forecasts modest GDP growth of 1.3 per cent this year, the country is seeing a belated post-Covid rebound in domestic demand. Private equity-related deal activity in Japan experienced substantial growth in 2021 to 2022.
The volume of transactions, including investments and exits, reached 276 last year, worth $25.9 billion
Japan-based general partners now have more than $13.7 billion of private equity dry powder – aka unspent capital.
The study noted that other major deals included an investment by Singapore sovereign wealth fund GIC in HR software group WHI Holdings, to jointly own it with Bain Capital, who bought the company out in 2019.
There was also the take-private of lighting equipment group Iwasaki Electric by Carlyle Group, and of engineering solutions group IDAJ, also by Bain.
Corporate governance reforms in the country have meant more information has been made available about portfolio companies. This has encouraged private equity deal-making by fund managers, and in some cases direct deals by investors.
…………………….
AUTHORS: Joyce Guevarra, Maira Imtiaz and Annie Sabater – S&P Global Market Intelligence data analysts