Global private equity deal values in insurance underwriter companies rose sequentially in the second quarter, but the industry total for H1 2023 remained shy of the $1 bn mark, according to S&P Global Market Intelligence data.
From Jan. 1 to July 13, private equity and venture capital firms announced $830 mn of investments across 24 transactions in the sector worldwide.
The value of global private equity deals with sovereign wealth fund investment fell by nearly half. Transactions with sovereign wealth fund investment totaled $39 billion across 11 deals in 2022, compared to $74.36 billion across 10 deals a year earlier.
Private equity and venture capital investment in financial technology and payments companies in Europe has been dwarfed by the $10 billion put into US companies in the first five months of the year.
Fintech has moved from the fringes of European finance to its core, but performance varies widely. If all countries could match the best in region, the economic benefits would be considerable (see Biggest FinTech Unicorns in the World).
PE/VC-backed investment in insurance underwriter industry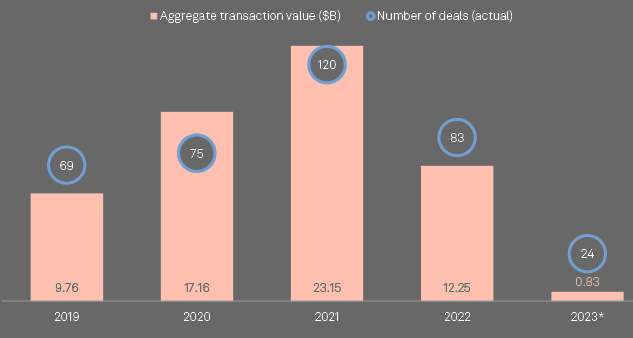 During the second quarter, insurance underwriters pulled in $530 million across 13 deals.
The aggregate transaction value in the second quarter was down 41.1% from the same period last year, which saw 23 deals worth $900 million.
The US and Canada had the most transactions in the year to July 13, with 14 deals worth an aggregate of $638.2 million, followed by Europe with 4 transactions totaling $173.6 million (see Global Private Equity Responsible Investment Survey).
Monthly aggregate value for private equity and venture capital entries was also the highest for North America with $12.39 billion. Asia-Pacific ranked second with $6.53 billion, and Europe entries totaled $5.22 billion.
PE/VC-backed investment in insurance by Regions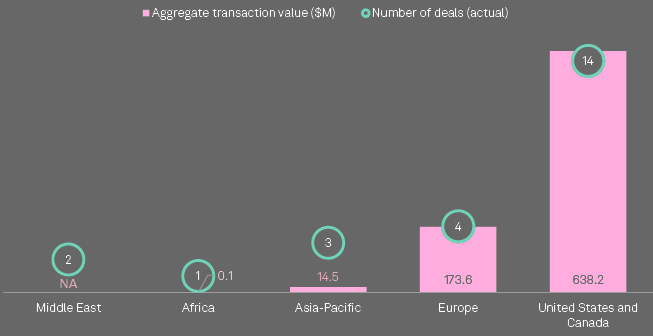 The second-quarter total saw a marked improvement from the previous quarter and grew 96.3% sequentially.
Number of deals PE/VC-backed investment in insurance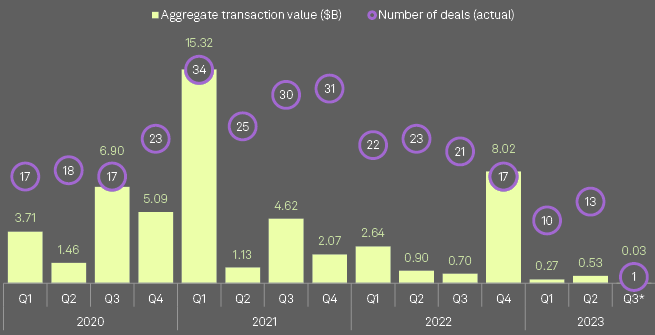 Looking at subsectors, digital lending companies secured the most capital from private equity investors in the first quarter, bringing in $292.3 million in total transaction value. Companies in the payments industry came in second with $264.3 million.
Largest private equity insurance investment transactions
In the largest venture capital investments worldwide in the sector year to date, Ares Management Corp. and Edwards Capital participated in the $250 million funding round for program manager and wholesale broker SageSure Insurance Managers.
Braemont Capital Management's investment in a $125 million round of funding for Incline Insurance Group, which offers risk management, underwriting and reinsurance by partnering, marks the second-largest deal thus far in 2023.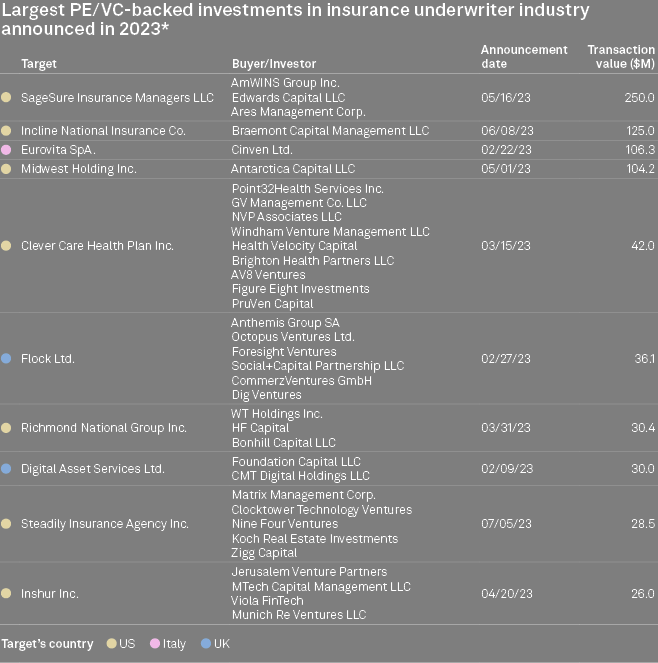 Private equity (PE) refers to capital investment made into companies that are not publicly traded. Most PE firms are open to accredited investors or those who are deemed high-net-worth, and successful PE managers can earn millions of dollars a year.
PE funds often target a specific type of company based on where that company is in its lifecycle. For example, different private equity funds may specialize in younger firms with promising futures, well-established companies with reliable cash flows, or failing companies that need to be restructured.
……………
AUTHORS: Muhammad Hammad Asif, Annie Sabater – S&P Global Market Intelligence analytics