Insurance market in the United Arab Emirates grows by 13.2%, stemming from regulatory developments and rising insurance premium rates. According to GlobalData, the general insurance market accounted for 82.3% of UAE's conventional insurance sector. The whole insurance market itself is expected to get major gains in the next five years thanks to rising health premiums after the introduction of mandatory health insurance.
The insurance report gives insurers access to information on segment dynamics and competitive advantages, and profiles of insurers operating in the country (see UAE moves to Compulsory Health Insurance).
The report also analyzes distribution channels operating in the segment, gives a comprehensive overview of the UAE economy and demographics, and provides detailed information on the competitive landscape in the country.
According to Milliman, the UAE insurance market saw an overall decrease in profitability for the first time after continuous growth in profits over the past five years. However, the insurance market continues to see premium growth for the sixth consecutive year (see Saudi Arabia's Insurance Market Outlook).
UAE Insurance Market Gross Written Premium

Based on the preliminary disclosures (24 companies) and audited reports (5 companies) of the UAE insurance companies listed on the Abu Dhabi Securities Exchange and Dubai Financial Market, the Gross Written Premium grew by 13.0% to AED 29.1b in 2022 following an increase of 6.9% in 2021. The increase in premiums is due to an increase in population and strong economic growth due to increase in oil prices and
tourism.
UAE Insurance Market Net Profit
Takaful companies witnessed growth in their top line in 2022 of 3.8% in comparison to
a 14.6% increase for the traditional players. Total GWP for Takaful operators now
stands at AED 4.0b compared to AED 25.1b for traditional companies.
Takaful vs. Traditional GWP

Leading the general insurance line is personal accident and health insurance, accounting for 57.6% of the gross written premiums (GWP) in 2022.
Health insurance, which was made mandatory in Abu Dhabi in 2006 and Dubai in 2014, has also been made mandatory across the UAE in the Q1 2023 (see Life & Health Inclusive Insurance). As a result, health insurance is expected to play a major role in driving the overall general insurance growth starting 2023.
The sector's compound annual growth rate (CAGR) was 3.5% during the brunt of the pandemic (2018-2022), with expectations that it will rise to 11.7% in 2022 to 2027. As health insurance becomes mandatory this year, it's expected to grow by 17.1% on a YoY basis.
UAE Insurance Market Shareholders' Equity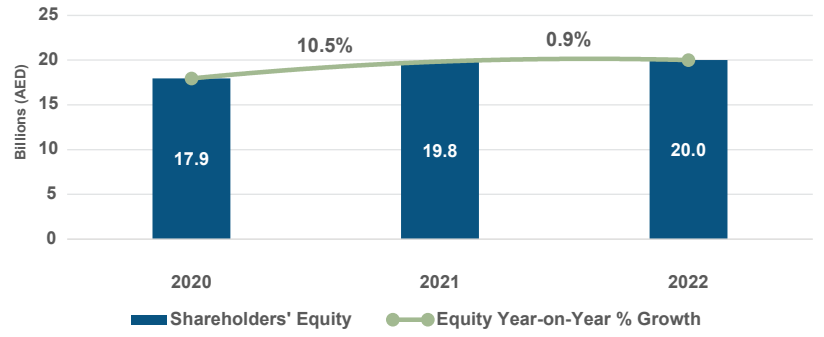 An increase in the average health insurance premium will also drive the growth of personal accident and health insurance in 2023. The health insurance premium increased due to the growth in claims following COVID-19 and high inflation in the country.
The average health insurance premium grew by 6% during Q1 2022 and Q3 2022 and by 5% between Q3 2022 and Q4 2022, further grew by 20% during Q4 2022 and Q1 2023.
The study further found that property insurance comes in as the second-largest general insurance line, making up 16.2% of the GWP last year. Motor insurance comes in at third, accounting for 11.8% of the GWP in 2022.
UAE Insurance Companies: GWP, Net Profit, Shareholders' Equity (AED mn)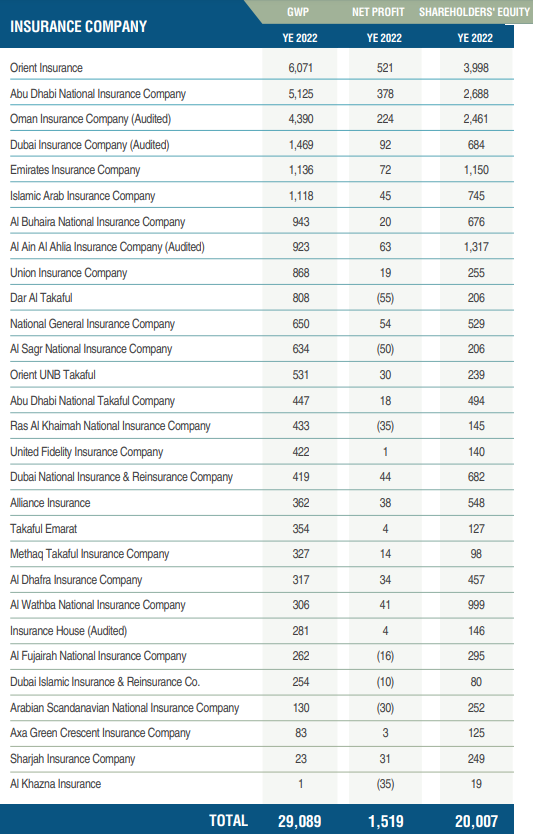 United Arab Emirates Motor Insurance Market has generated a revenue of USD 1480 million in the current year and is poised to achieve a CAGR of 2% for the forecast period. United Arab Emirates was one of the least impacted regions due to the COVID-19 outbreak, thus did not witness a severe halt in motor insurance activities. Despite COVID-19 repercussions.
The insurance sector in the United Arab Emirates is one of the most active sectors because of its vital role in serving the national economy.
UAE maintained its position as the region's leading insurance market with its sustained and diversified expatriate population base, favorable demographics, and business-friendly environment. Additionally, the country has maintained its strong infrastructure pipeline to diversify its revenues away from the petrochemical sector.
UAE has the highest penetration rate in GCC countries at 2.9%, and UAE has the highest at USD 1,194.7. Moreover, a strong government-led infrastructure stimulus increased construction activities has indicated growth for the industry.
As for the remaining lines of business, 10.1% of the remaining 14.4% comes from miscellaneous lines.
Unemployment insurance, which was also made mandatory in 2023, will further support the miscellaneous line for a CAGR of 5.9% in 2022 to 2027.
Post-COVID developments such as the introduction of mandatory health insurance and the rise in health insurance policy prices are expected to drive the UAE general insurance market to grow at a CAGR of 9.6% from AED34.6 billion ($9.4 billion) in 2022 to AED54.8 billion ($14.9 billion) in 2027.
Edited & Fact checked by

Oleg Parashchak