The U.S. general insurance industry is set to grow at a compound annual growth rate (CAGR) of 8.5% from $2.18 trln in 2023 to $3.03 trln in 2027, in terms of gross written premiums (GWP), forecasts GlobalData.
Insurance Database reveals that the US general insurance industry is expected to grow by 8.2% in 2023 after registering a double-digit growth of 10.8% in 2022.
Rising interest rates and persistently high inflation have weighed on consumer spending and narrowed purchasing choices, which is expected to impact general insurance growth in 2023.
However, rising premium prices for motor, health, and property insurance policies will support general insurance growth in the US over the next five years (see about Impact of Inflation & Rising Interest Rates on Insurance Industry).
U.S. Insurance Market – gross written premiums forcasts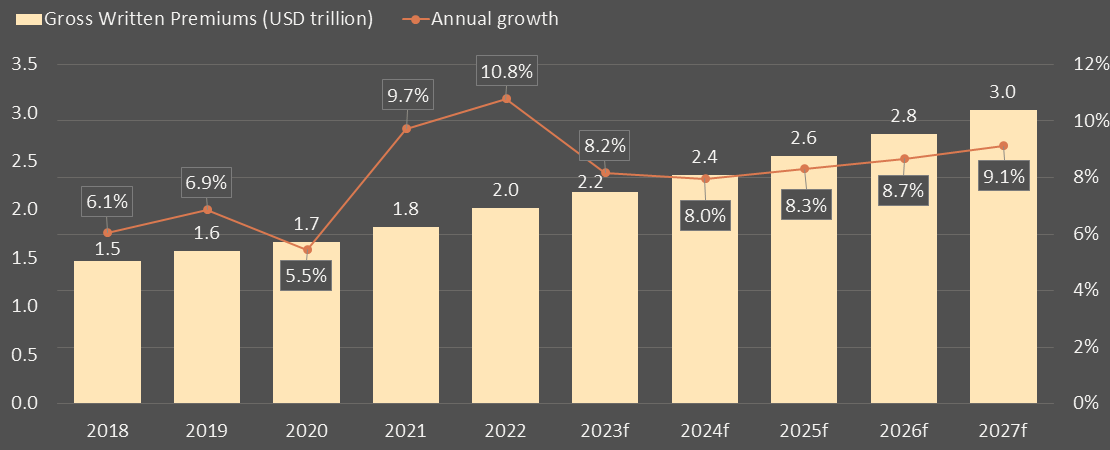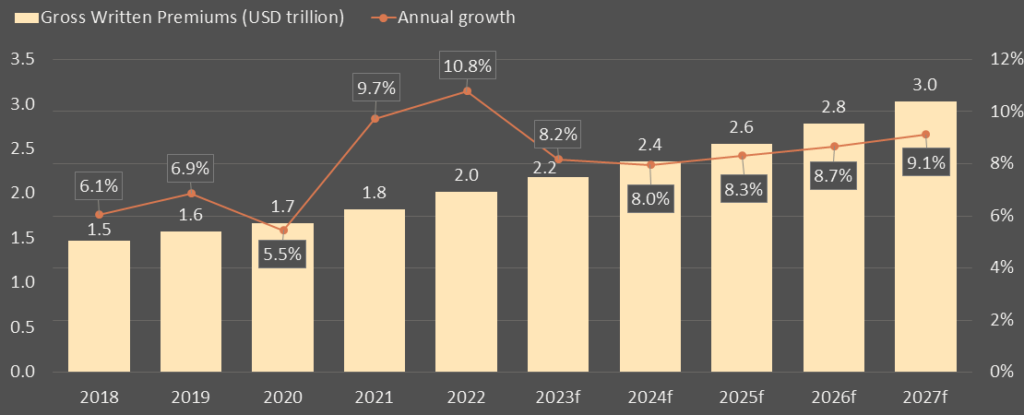 In the US, premiums for most general insurance business lines have been increasing during the last couple of years.
An increase in the number of road accidents as well as the increasing frequency of extreme weather events prompted (re)insurers to reassess their risk exposure.
These, along with high inflation, resulted in a rise in reinsurance rates and policy premiums. The price increase is expected to continue over the next few years due to rising medical costs and the increasing frequency of natural catastrophic (nat-cat) events.
Personal Accident and Health Insurance market forcasts
Personal Accident and Health (PA&H) is the leading line in the US general insurance industry and is expected to account for a 53.8% share of the GWP in 2023.
Within PA&H insurance, private health insurance is the largest product and is expected to account for 99.9% of the PA&H premiums in 2023, supported by the US federal plans, Medicare and Medicaid that are sold through private insurers in the US.
For the first time in more than a decade some Medicare recipients will see a decrease in their premiums. Those in receipt of Part B coverage will have their standard monthly premium lowered by $5.20 in 2023, to $164.90.
The average monthly cost of health insurance in the United States in 2023 is $560, a 4% increase on 2022′s $531. This is based upon the average silver plan cost for a 40-year old applicant.
Increasing healthcare costs due to inflation, as well as growing demand for health insurance, will support PA&H insurance growth, which is expected to grow at a CAGR of 10.7% during 2023-2027.
Healthcare costs are increasing for most Americans in 2023. Without a public healthcare system price rises in some states may put thousands onto worse coverage plans and potentially leave them staring at financial ruin for a problem that was not their fault.
U.S. Motor insurance market forcasts
Motor insurance is the second largest line and is expected to account for a 16.4% share of the US general insurance GWP in 2023.
Most U.S. personal auto insurers continue to report underwriting losses despite sharper improvement in premium rates, with the 2023 marked by continued unfavorable claims severity and higher catastrophe related losses. Future profit improvement will continue to be hindered by unusually high loss severity (see TOP 10 Largest U.S. Auto Insurance Companies 2023).
Motor vehicle sales grew by 12.6% for the period of January to August 2023 as compared to the same period last year, which will support the growth of motor insurance.
U.S. auto insurance market growth will also be supported by an increase in premium rates. An increase in claims due to climate change-led natural disasters, higher road accidents, and high inflation resulted in a higher cost of claims for insurers. This resulted in motor insurance premiums increasing by 8.4% in 2023 as compared to a 1.3% increase in 2022.
According to Fitch Ratings, a review of personal auto segment results from public company GAAP filings reveals that for a group of nine insurers that report quarterly personal auto segment results, aggregate written premiums were up 10% from the prior year. The segment's combined ratio (CR) moved down slightly to 100.4% from 101.3% in 2022.
Property insurance market forcasts
Property insurance is the third largest line, accounting for a 15% share of the general insurance GWP in 2023.
It is driven by the demand for nat-cat insurance policies. According to National Centres for Environmental Information (NCEI), the US witnessed an average of 15 natural disasters per year between 2017 and 2023.
U.S. property catastrophe reinsurance rates rose by as much as 50% at a key July 1 2023 renewal date, with states such as California and Florida increasingly hit by wildfires and hurricanes.
Reinsurers in particular are feeling the heat as they accumulate losses from primary companies. To counter this, many are raising prices, limiting coverage and even exiting some markets to improve returns
Due to the increasing frequency of such extreme weather events, the insured losses related to catastrophes increased by 4% in 2023 and stood at $165 bn as compared to $158.2 bn in 2021.
As a result, US property catastrophe reinsurance rates increased by as much as 50% during renewals in July 2023. Property insurance is projected to grow at a CAGR of 5.4% during 2023-2027.
Guy Carpenter explained that the property catastrophe reinsurance market saw some "significant" price adjustments for loss-impacted programs in peak zones, whereas loss-free accounts in other geographies actually trended flat to down.
Reinsurance broker's index is a proprietary index of U.S. property catastrophe reinsurance rate-on-line movements, so offers a way to measure catastrophe reinsurance pricing in the U.S. market. Property catastrophe reinsurance rates-on-line in the U.S. have risen by almost 15%.
Liability, Financial Lines, MAT insurance market forcasts
Liability, Financial Lines, MAT, and Miscellaneous accounted for the remaining 14.7% of the general insurance GWP in 2023.
The US general insurance industry is poised for strong growth over the next five years, driven by growing awareness of health insurance, an increase in vehicle sales, and rising demand for NatCat insurance.
However, higher claims in motor and property lines due to frequent weather events will remain a major challenge for the US general insurers.
Climate change, which has led to increased frequency and severity of weather-related natural catastrophes, also poses a significant risk to insurers and reinsurers.
………………..
AUTHOR: Sneha Verma – Insurance Analyst (Financial Services) at GlobalData Research